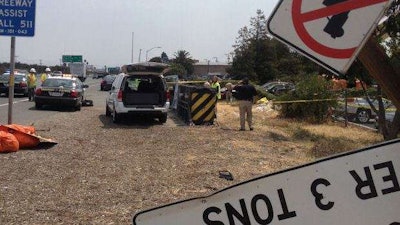 A road worker was killed on Highway 101 in Redwood City, California, when a female driver veered her vehicle off the road.
California Highway Patrol say the driver crashed through a fence near the Marsh Road exit off of southbound 101, and hit three people. She was driving a Mercedes C-Class coupe when she apparently lost control hitting members of the nine-man road crew tidying the side of the highway.
One worker was killed, two others were taken to the hospital with minor injuries.
Authorities are investigating the crash, and awaiting results of a drug/alcohol test, to see if charges will be filed against the driver.
The road crew was working under a state contract for Jobtrain of Menlo Park, a nonprofit job-placement agency.
"We are shocked and saddened about the tragic accident that took place this morning on Highway 101," a spokeswoman for Jobtrain said in a statement. "We extend our deepest sympathies to the families of those involved and we will be working to provide counseling and support."