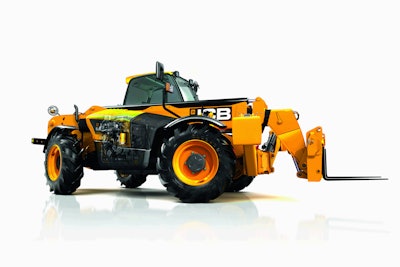 JCB has added its Ecomax engine, which the company developed to meet the EU Stage IIIB/US Tier 4 Interim emissions standards, to all Loadall telescopic handlers.
The engines, which use cooled exhaust gas recirculation (EGR), provide up to 15 percent more torque and reduced fuel consumption; high back-off brakes on 531-70, 541-70, 535-95 and 533-105 models; reduced transmission oil levels; a variable speed cooling fan on most powerful models; a revised engine canopy and pod; and an updated cab environment.
JCB offers three engine ratings to construction Loadall customers. A 74-horsepower engine is standard on the 531-70, 541-70, 535-95, 533-105, 535V-125, 535V-140 and 540-140; a 108-horsepower engine is standard for the 531-70, 541-70WM and 540-170; and a 125-horsepower engine is standard in the 550-80WM and 550-80 models. Other options include a 108-horsepower engine in the majority of the Loadall models as well as a 125-horsepower motor in four of the larger models.
In addition to including the Ecomax engine, JCB has revised the Loadall's cab, which features a new instrument cluster and dash layout with a high resolution LCD monitor, a seven-speed fan in the heating and ventilation system, an operator presence switch as part of the operator's seat and a slam latch mechanism and door ajar facility in the cab door.
Other new Loadall features include high back-off brakes on the 531-70, 541-70, 535-95 and the 533-105 models as well as a revised engine cover and pod.
For more information, visit jcb.com.