Behold, bi-fuel
Concerned about rising fuel costs? The Big Three pickup makers tackle this issue with CNG/gas intros at the Work Truck Show.
By Jack Roberts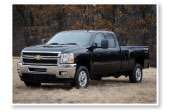 General Motors
Bi-fuel versions of the 2013 Chevrolet Silverado and GMC Sierra 2500 HD extended cab pickup trucks include a compressed natural gas (CNG)-capable Vortec 6.0L V8 engine that seamlessly transitions between CNG and gasoline fuel systems. The truck always starts by using gasoline, then switches over to CNG once the proper operating temperature is reached. Drivers can switch between fuels at any time – even when driving at highway speeds – simply by pressing a button mounted on the dashboard, and reach a range of 650 miles. Both trucks come in standard and long box, with either two- or four- wheel drive.
The trucks will be covered by GM's three-year, 36,000-mile new vehicle limited warranty and five-year, 100,000-mile limited powertrain warranty and vehicle emissions warranty.
Ford
Westport Light Duty will begin producing bi-fuel Ford F-250 and F-350 Super Duty pickup trucks in May at a facility adjacent to Ford's Louisville, Kentucky, truck plant. Westport LD's Super Duty models have a range from 200 to 350 miles when operating on CNG, depending on tank size. Overall vehicle range extends to more than 600 miles when the 32-gallon gasoline tank is factored into the equation.
Ford decided against allowing drivers to switch between CNG and gasoline, citing research that said fleets prefer to have these trucks running on CNG as much as possible. The trucks will run on CNG as long as it's present; when the CNG tank runs out, the 6.2L V-8 engine immediately switches to gasoline. Once the CNG tank is refilled, the truck reverts to CNG the next time it's started.
Virtually every Super Duty pickup configuration can be upfitted to a bi-fuel version, including 6.75- and 8-foot box lengths and 4×2 and 4×4 powertrain configurations. The trucks will retail for $9,750 over the base Super Duty sticker price, with an optional 24-gallon gasoline-equivalent tank available for an additional $1,200.
Ram
The Ram 2500 HD CNG pickup is the only factory-built CNG pickup truck offered in North America today, Ram says, built in Saltillo, Mexico, and covered by Ram's five-year, 100,000-mile warranty.
Since its parent company Fiat currently holds 80 percent marketshare of all CNG vehicles produced in Europe, Ram says it was able to leverage that expertise in the design of its 5.7 HEMI dual-fuel engine.
The bi-fuel Ram 2500 HD features a full crew cab and 8-foot box and is powered by a modified 5.7 HEMI engine. The truck features a 14.2-cubic-foot CNG tank as well as an 8-gallon gasoline tank, for a combined range of more than 600 miles.