INTERMAT MACHINE PREVIEWS
Here's a sneak peek at just a few of the hundreds of significant machine and component introductions that will be seen at Intermat 2012, in Paris France, April 16-21. For availability of these machines here, please consult with your equipment dealer, and note that the specs may differ between European and U.S. machines.
Atlas Copco
• The new HB 4100 hydraulic breaker is 287 pounds lighter than its predecessor so it can be mounted to smaller carriers, those in the range of 40 to 70 metric tons. It also delivers better performance and higher efficiency than the previous model.
• The QAC 1250 generator is the first 1-megawatt generator from the company and delivers 1,450 kVA/1,150 kW of prime power suitable for industrial plants, construction, refineries, and standby power. The compact, 20-foot container is built to shrug off extreme weather. A variable speed fan improves fuel consumption. It can be synchronized with other generators or networked to do peak sharing.
• A new range of mobile crushers is being represented by the Powercrusher PC4 with a capacity of up to 300 metric tons per hour. At 99,000 pounds, it is suitable for small to medium size quarries and larger stone crushing operations.
• The SmartROC T35/T40 surface drilling rig is based on a new control platform and only uses the amount of energy needed for each function, cutting fuel consumption up to 50 percent in some applications. In hazardous conditions, a radio remote control allows these rigs to be operated from outside the cab. For more information, visit EquipmentWorld.com/info and enter RS #150.
Caterpillar
Cat will display more than 40 machines, 20 of which will be seen for the first time in Europe.
• Wheel loader improvements include the 966K CVT (constant velocity transmission) wheel loader. The new transmission doesn't require a torque converter or gear shifting, making for easier operation and fuel savings through efficiency.
• Cat is also showing its new F Series Backhoes, the 428F and 432F, which feature a new loader linkage with greater lift and dump heights and increased lift capacity.
• A Caterpillar Paving pavilion will highlight a tandem vibratory roller line with articulated and drum steer configurations, the AP1055E paver (the company's largest to date), the B Series vibratory soil compactor line, and a pneumatic roller, the CW34.
For more information, visit EquipmentWorld.com/info and enter RS #151.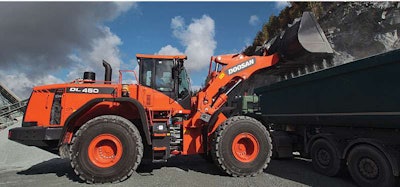 Doosan
With a focus on green energy technology, Doosan will give Intermat visitors a glimpse into its crystal ball with its concept hybrid excavators and unmanned robot excavators. It's also playing up its 3-megawatt WinDS3000TM offshore wind power system. More down to earth, the company will introduce a slate of new machines (expected to debut in the states around mid-year, including:
• A new generation of five large wheel loaders, from the DL300-3 to DL550-3, with Scania DC09, five-cylinder SCR diesel engines and bucket capacities from 3.9 to 7.2 cubic yards. This new breed will have load sensing, variable hydraulic piston pumps and a clutch cut off system to disconnect the tranny from the engine and give 100 percent of the power to the hydraulics. The new five-speed ZF transmission improves power transfer and reduces fuel use, and the ZF limited slip Type II differential axles offer a hydraulic differential lock option. The DL200-3 medium wheel loader has many of the same driveline and hydraulic improvements and a 2.6-cubic-yard bucket.
• Doosan will also debut the DX180LC-3 medium crawler excavator with a bigger, pressurized ROPS and direct control joysticks with proportional thumb wheel switches and integrated buttons for attachment control.
• Also expect to see new Geith (branded Doosan) automatic couplers and large excavator buckets slated for the second quarter.
For more information, visit EquipmentWorld.com/info and enter RS # 152.
Dynapac
• A new generation Dynapac soil compactors, the CA 5000, CA 6000 and CA 65000 models, feature a transverse mounted engine. These make the machine more compact and allow better visibility from the redesigned cabs. Active bounce control prevents over-compaction.
• A new range of wheeled asphalt pavers heads up the Dynapac display including the F2500W, the SD2500W and SD2500WS. All three tap into Cummins QSB 6.7 diesel engines for power and the SD series includes a slide-able operator platform, integrated leveling system and a new hydraulic system with precise handling and intelligent traction.
• While just a concept thus far, Dynapac is nonetheless displaying a prototype CC900E battery driven, emissions-free asphalt roller. Twin electric motors drive the machine and it can work for a full day on one charge and be recharged overnight.
For more information, visit EquipmentWorld.com/info and enter RS #153.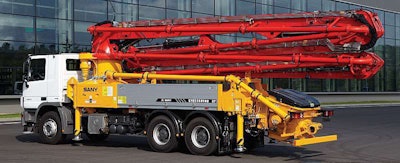 Sany
Two new mid-size stationary concrete pumps will be on display at the Sany booth: the HBT 60C-1816 and HBT 80C-1818, with 147-horsepower and 228-horsepower engines, respectively. Sany will also be showing its SYG 5260 THB 36 truck-mounted, 30-meter concrete pump and RZ5 placing boom and the 40-meter SYG 5320 THB concrete pump also with the RZ5 placing boom.
The company is also celebrating its new factory in Bedburg, Germany, which is making concrete mixers and batching plants. The factory, which started 2010 with just 50 people, will ramp up to 240 employees this year and plans to add 120 more eventually.
For more information, visit EquipmentWorld.com/info and enter RS # 154.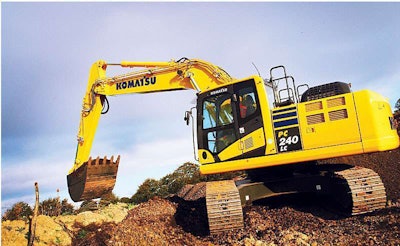 Komatsu
• The new dash-10 model excavators – the PC240LC-10 and PC240-LC-10 – offer 5 percent more power and 10 percent better fuel economy than their predecessors with Tier 4 Interim engines and variable geometry turbochargers. New cabs and fully air suspended operator control stations improve comfort and reduce fatigue.
• The 205-horsepower DC65-17 dozer comes in standard, low ground pressure and wide track versions and operating weights from 22 to 23.8 metric tons. Torque converter lock up boosts efficiency in long pushes and a new Komatsu PAT (power, angle, tilt) blade lets you do both heavy dozing and precision work.
For more information, visit EquipmentWorld.com/info and enter RS # 155.
LiuGong
Announced at ConExpo last year, China-based LiuGong has finalized its agreement to acquire HSW and its distribution subsidiary Dressta. HWS produces a full line of dozers and pipelayers in Poland and these are expected to debut in the United States in the next year. The dozer designs are based on upgraded International Harvester designs. LiuGong is also showing its E-series excavators outside of China for the first time. These will be available here in the second quarter.
For more information, visit EquipmentWorld.com/info and enter RS # 156.
IronPlanet
Online auction company IronPlanet announced its new mobile app for iPhone and Android smart phones (available here since late 2011). The free app lets users search global inventory by equipment category or auction date from their mobile devices. Users can view inspection reports, add machines they are looking for to a "watch list," and bid on equipment. The app is available at the iTunes store and Android Marketplace.
For more information, visit EquipmentWorld.com/info and enter RS # 157
Topcon
Topcon announced the release of a new, affordable series of lasers and levels that bridge the gap between do-it-yourself products and industrial quality levels and lasers used in large construction and civil engineering projects. The company says the 2LS products incorporate advanced features not available in other builder grade laser and optical products. These include:
• Orion automatic levels that are designed for any leveling or elevation work and have point-and-shoot operation and a bar code scan on the elevation rod that eliminates errors.
• The Gemini laser line up comes in two models, red beam or high visibility green beam. They feature automatic self-leveling; horizontal, vertical, plumb and match slope modes; and enhanced visibility beam scanning.
• Leo line lasers for layout and point transfers for setting accurate corners and transfer points for walls, soffits, ceilings and decks. They come in 3-, 5- and 7-arc second models.
• Taurus general construction rotating levels are designed for flat work, fast set up and ease of use. They have a 300-meter working range, and a dual-sided LCD display. Taurus levels will shut off automatically if disturbed and send an alert so the operator does not go off grade.
Also new from Topcon is a pair of total stations that use what the company calls its TSshield telematics module for remote security, theft prevention and maintenance, a 36-hour battery life, working distances of 1,640 feet (500 meters) reflector-less and 13,123 feet (4,000 meters) with a prism, Bluetooth communications capability, and USB ports for data transfer. These include the:
• Sokkia CX, which when used with an external data collector can tap into a cloud-based solution that streamlines field and office connections. An angle calibration system allows accuracy up to for 1-inch arc second.
• The Topcon ES series of total stations use a pinpoint EDM beam spot to ensure precise measurement even at shallow incidence angles.
For more information, visit EquipmentWorld.com/info and enter RS #158.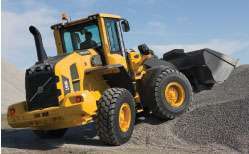 Volvo
• The new G series wheel loaders from Volvo include models L60G, L70G and L90G and offer parallel lift in the 11- to 15-metric-ton class. A hydraulic attachment bracket makes work tool changes quick. Load sensing hydraulics eliminate unnecessary oil pumping, and the automatic power shift transmission always operates in the optimal range by sensing engine and travel speed, kick down, engine braking and other variables.
• Two new pavers from Volvo, the P7820C ABG and P8820C are designed for the global paving market. The P8820C ABG paves up to 42.7 feet wide and puts down up to 1,212 tons of asphalt per hour. The P7820C ABG screeds up to 36 feet wide and can output up to 992 metric tons per hour. Variable extending screeds have dual electric heating bars and the fixed width screeds have gas heat. Wide crawler tracks and individual drives for each track along with good weight distribution keep the machines moving even up on difficult terrain.
• Designed for maneuverability in confined spaces, the two new short swing excavators, the ECR145D and ECR235D feature narrow bodies and centrally positioned booms. The ECR145D has a bucket capacity of 1.1 cubic yards and a 114-horsepower, four-cylinder engine. The ECR235D comes with a six-cylinder power plant, 173 horsepower and a 1.9-cubic-yard bucket. Programmable auto idling cuts down on wasted fuel. Fine, heavy and power modes match engine effort to the job at hand. Boom down speed is increased with a new main control valve design and increased hydraulic flow also increases attachment speed.
• On the small end of the wheel loader range the compact L45G and L50G employ the company's TP linkage for high breakout force and parallel arm movement. Progressive lift helps retain loose bucket material and stability when lifting pallets. The four cylinder engines used in these units produce between 99 and 116 horsepower and connect with an infinitely variable hydrostatic transmission. 100-percent diff lock keeps all four wheels turning in slippery conditions and an oscillating rear axle increases stability in uneven terrain.
For more information, visit EquipmentWorld.com/info and enter RS #158.
Stanley LaBounty
The new Stanley LaBounty MSD400R mobile shear is designed for use on 45-metric-ton excavators in scrap processing and structural demolition including buildings, bridges and ship breaking. With its high power-to-weight ratio and large jaw size it is capable of 5,500 psi and a cycle time of 9 to 12 seconds depending on the base machine. Boom tip to pivot measures 16 feet and the narrow body makes for better visibility. For more information, visit EquipmentWorld.com/info and enter RS #159.