EDITOR'S PICK
GRADER DELIVERS MORE HORSEPOWER
Perform a variety of jobs including heavy blade work, road maintenance snow removal and precision finishing with Caterpillar's 120M2 and 12M2 motor graders, which are also available in all-wheel-drive models 120M2 AWD and 12M2 AWD.
Variable Horsepower Plus, which delivers additional horsepower in each forward gear 5th through 8th for more power at higher speeds, is standard on all M Series 2 models. The
VHP Plus system also limits horsepower in lower gears to reduce wheel slip and aids in conserving fuel. The ACERT technology-equipped engines use the Cat NOx Reduction System combined with aftertreatment technologies to meet Tier 4 Interim emissions standards. Improvements over the M Series grader include a longer wheelbase, larger displacement engine, additional power and more torque. Two electronic joysticks deliver machine control while reducing hand and wrist movement by almost 80 percent compared to conventional controls. The grader is available with the new Cat Grade Control Cross Slope System, a complete machine control and guidance system that provides automatic cross slope control capability and is compatible with AccuGrade systems.
Visit EquipmentWorld.com/info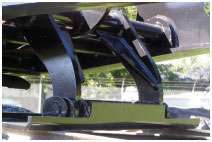 PRODUCTIVE PADDLE
Eliminate the need to manually block the trailer frame with Rogers' gooseneck jack paddle, which is installed on the bottom of the trailer's gooseneck and requires little or no tractor modification. A hydraulic cylinder pushes the two-legged paddle onto the tractor frame to support the detached gooseneck and prevent it from dragging on the ground. The paddle is standard on Rogers' CobraNeck detachable gooseneck.
Visit EquipmentWorld.com/info

REDUCE COMPACTION PASSES
Easily handle small compaction jobs with 25 percent fewer passes with Weber MT's CR 6 H walk-behind soil compactor, which has a Hatz diesel engine and delivers 11,250 pounds of compaction force. Featuring a 24-inch standard operating width, the compactor can be adjusted to 18 or 28 inches wide. A hydraulic variable shifter enables the
CR 6 H to travel in either forward or reverse, and adjustable handles reduce hand and arm vibration.
Visit EquipmentWorld.com/info
GRAPPLE HANDLES IT ALL
Using a skid steer, clamp anything from small pipe to large culverts with CEAttachments' Edge Pallet Fork Frame with Grapple. The attachment has a single cylinder grapple that pulls material toward the frame as the jaw closes and four optional settings where the cylinder is pinned to the grapple to maximize opening and closing force. The grapple handles capacities up to 5,000 pounds, has a 47-inch overall width and 56-inch grapple opening with hoses and flat-faced couplers.
Visit EquipmentWorld.com/info
ADAPTABLE CRANE
Designed for a range of applications including general construction erection, the Zoomlion QUY350 crawler crane from Global Crane Sales features a 385-ton capacity with 11 boom configurations and five hookblocks. The main boom has a 285-foot lift height, and a luffing jib boom may be used to reach a 340-foot lift height. When combined with superlift counterweights and the luffing jib, the QUY350 can reach heights of 540 feet and lift more than 16,000 pounds at maximum boom length. The crane features a 400-horsepower Cummins QSM11 electronic diesel engine, and delivers a lifting speed of 442.9 feet per minute with the primary winch.
Visit EquipmentWorld.com/info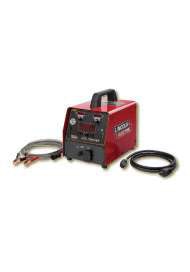 PERFORMANCE MONITORING
Track welding performance with Lincoln Electric's portable monitoring module, Arc Tracker. The unit is compatible with any DC welding process power source and wire feeder, has auto-sense on any input voltage between 120 and 230 volts AC and has digital controls that sample the welding parameters at high speeds. The Arc Tracker features a plug-and-play design, easily connecting to access a range of monitored data including welding station, operator, welds performed, amps/voltage information, percent of up and downtime, weld fault alerts and more.
Visit EquipmentWorld.com/info

BOOST AIR FLOW
Accommodate greater air flow needs with the line of single- and two-stage duplex compressors from Jenny Products, which includes two pumps and two electric motors on each unit. The pumps and motors can be operated separately or simultaneously, allowing the second pump to either serve as a backup or complement the first pump. Single-stage models are available with 60- and 80-gallon tanks and provide 19.6 to 55.6 cfm at 125 psi. The two-stage models have 120- and 240-gallon capacities and deliver 36.6 to 214 cfm at 175 psi. A directional air shroud and large flywheel reduces pump temperatures and heavy duty components reduce damage on the jobsite. Standard features include auto start/stop, thermal overload protection, special unloading valves, tank gauge, alternator and magnetic starter.
Visit EquipmentWorld.com/info