Decisions, decisions
As most contractors enter their fourth year of uncertain work, equipment choices become more critical. Some key factors to consider as you determine your 2012 equipment strategies:
Why Buy New?
Aging, slowing fleets best remedied by buying new, efficient equipment
The 30-metric-ton excavator you place your top operator into this season will be the most productive – and deliver the most revenue – if it rolled off the assembly line dangling a tag with your name on it.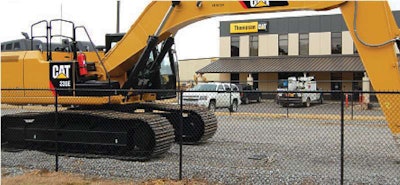 Buying a brand new machine means buying the best machine available at this particular time, say equipment manufacturers. And this remains the most compelling reason for contractors to do exactly that when adding to or turning over their fleets in 2012, despite announced price increases by manufacturers due to enhanced technologies to meet new emissions requirements.
"There have been a lot of improvements to the equipment other than just complying with Tier 4 Interim emissions standards," says Bruce Boebel, crawler dozers product manager for Komatsu America. Whether it's articulated dump trucks with traction control systems, dozers with lockup torque converters or excavators with factory-installed telematics solutions, the construction equipment rumbling out of factories now is the most proficient, fuel-efficient and productive it's ever been, says Boebel. "It's not merely to meet the new emissions standards," concurs Lee Haak, a former Komatsu America product manager who now heads up the company's used sales side with Komatsu Remarketing. "The competitive nature of the market requires us to improve the productivity of the machines.
"The competitive nature of the market requires us to improve the productivity of the machines."
"A guy who's holding on to a five-year-old machine isn't going to enjoy a lot of the technology now available," says Haak.
With the arrival of Tier 4 emissions requirements, "the machines are just different than they were before," says Dennis Slater, president of the Association of Equipment Manufacturers. "You have a lot of effort being put in to making the machine not only more fuel efficient, but also able to do more in less time." Contractors have learned to be "lean and mean," says Slater, "and machine efficiency is going to be a key part of that moving ahead."
It is commonly felt the economic downturn has simply stretched out equipment replacement cycles for buyers. Such is not, however, the only way to adjust the business to the times, says contractor Bradford Clubb. "What hasn't changed is our approach to updating and maintaining our fleet of equipment. Despite things getting ugly, we kept replacing equipment," says Clubb, president of Flyway Excavating, Lititz, Pennsylvania. "What did change is that we traded a large excavator to a compact excavator. Through upgrading equipment, we tweaked the type of equipment we owned. We got rid of some types of equipment we were not really using anymore and added smaller and more specialized types of pieces for which we had a regular diet of work."
Why buy new?
The compelling reasons for ordering new equipment versus buying used from a dealer, bidding at auction or renting:
The best iron, period. New equipment has the most efficient, most up-to-date systems available on the market. "When we were first tasked with meeting emissions requirements, there were some real burdens passed on to the contractors because the machines consumed more fuel," says Haak. "Now we've really done a technology recovery and, as we're meeting the new emissions requirements, we're giving equipment users some of that fuel consumption back. When you were talking about $1-a-gallon diesel, fuel economy really wasn't an issue. Right now, off-road diesel is around $3 a gallon and going up." A good way to recover some purchase cost on a machine is by lowering the operating cost via fuel economy. "Especially until there is some more market certainty out there," says Slater, "I think the environment we are into now is for purely efficient machinery." New equipment, he says, fits the bill.
Let's make a deal. OEMs, some of which have their own finance arms, are not only offering low-interest packages on their more expensive new equipment, but are throwing in general maintenance packages that will offset some of the additional outlay for contractors buying new versus used. Fleet owners can, in turn, move the required maintenance resources to other areas of the business. In some cases, additional free maintenance packages are specific to Tier 4 technologies, including diesel particulate filter (DPF) cleanings, intended to ease owner concerns about additional maintenance costs due to technologies new to them.
The high cost of good used iron.
The proverbial golden nugget of used equipment – the late-model, low-hour machine – continues to fetch high prices, especially at North American auctions instantly accessible via the Internet to a worldwide market buoyed by strong currencies. If a contractor sells that machine now, he's going to get top dollar for it," says Boebel, "and he can then turn around and apply that to a new machine." As auction prices in many cases pass wholesale prices and even approach those of new iron, there comes a point when a deal isn't a deal anymore … for the buyer, that is.
Be ready to roll. The energy sector is already wide open and, says AEM's Slater, a transportation bill will restore another key component of the U.S. construction sector. Slater offers a general view of how the economy factors into equipment acquisition strategies for contractors. "They've put off things for a while, but they're going to need machines that are more efficient to do this work. To have an aging equipment fleet is not going to be the answer for them." Says Haak: "There's also a green side to the Tier 4 product. In certain metropolitan areas, there's a real favorable look on contractors running the latest equipment."
Maintain the value of your business.
When the depreciated value of your fleet goes below 50 percent of the new value, you're left "playing catch-up," says one contractor who has aggressively turned over equipment during the downturn. New equipment is more valuable equipment – and a tangible strength to your business. "When the economy took a sharp downturn, people sold off what they didn't need, and they kept what they felt they needed to run their businesses," adds Boebel. "Those machines have been accumulating hours ever since. There's a point where you have to evaluate the cost versus benefit of keeping that machine or purchasing a new machine. Machines don't last forever. You can rebuild them several times and patch them along, but there's a point where that old machine just starts to be a drag on your business." EW
Lease Relief
The flexibility of equipment financing, especially leases, enables customized solutions for a contractor's particular accounting, tax or cash flow needs, points out the president and chief executive officer of the Equipment Leasing and Finance Association (ELFA).
Leases are available that allow reduced monthly payments while a project is ramping up and the equipment is not yet generating revenue, or for other specific circumstance such as seasonal business fluctuations, William Sutton writes on behalf of ELFA.
For businesses short on cash right now, he adds, equipment financing:
• enables expense planning;
• maintains cash flow;
• preserves capital;
• requires no down payment; and
• can provide 100-percent funding.
For more, visit elfaonline.org
Factors for Machine Replacement
Amount of repairs/downtime 79.3%
Number of hours 71.2%
General market conditions 48.8%
Manufacturer/dealer incentives 39.3%
Availability of used machines 38.2%
Repair/downtime and number of hours were the overwhelming reasons cited when Equipment World asked contractors why they would replace a machine.
Why buy USED?
Smart used iron acquisition a good way for contractors to tackle work as it comes
As a surviving contractor, Tom Pank has learned to be quick on his feet. Dealing with matters as they arise, and adjusting accordingly, took him from a regular equipment buyer to a self-imposed, 250-piece fleet liquidator in 2011, "just because I didn't have the work" with his former company, AccuBid Excavation.
With his new company, AccuBid Civil Construction, the Mount Airy, Maryland, contractor simply goes looking for equipment as he needs it. The used market, specifically the auction route, allows him to do that, he says. "With the frequency of these auctions and the amount of equipment companies like Ritchie Bros. now control in the marketplace, it enables us to adapt to our particular projects quickly," says Pank. "In other words, I can get an award and, in a month or less, I can acquire, service and have the added needed iron on the job."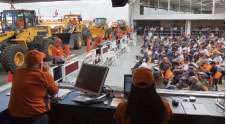 A recent job he landed required a soil stabilizer – a niche piece not exactly parked on every street corner. "On a Monday morning, I got on the Ritchie website and located one coming up for bid in Texas; over the next two days, I did some phone research on it; on that Wednesday, I purchased the machine from the auction via online bidding; and on the following Monday, it was sitting in my yard!"
The most compelling reason to buy used equipment in 2012 – the ability to quickly add to fleet as required – is the way more contractors must go today to stay fluid, says Pank. "We don't park underutilized equipment, but rather convert it to cash and then buy specifically what we need when we need it." The purchase of the 1997 Caterpillar soil stabilizer, while admittedly costing Pank a bit more than he intended to pay and thus making the seller happy, is likewise a win for the buyer, says Pank. He's able to immediately equip the job and then, when it's time to park the unit, he'll simply call up Ritchie Bros. and put the piece back on the market. "I'll be way ahead, as long as I was smart about what I bought and I took care of what I bought," he says. "I'm not going to trash it and get the money back for it."
Pank was fortunate, say other industry observers, that he wasn't necessarily looking for crown jewel of used equipment – the classic late-model, low-hour piece, particularly those going to work in the energy sector domestically. "It is harder to come by that young, low-hour machine," says Kurt Tisdale, manager of Caterpillar's Used Equipment Services Division. "Those don't last long, and often they're gone before people even know they're available, so you have to take your chances on a little bit older, higher-hour equipment, and that means you have to study it a lot harder."
Prices on some prime used equipment can even approach that of a new piece, primarily for two reasons: It is available now; and, notes equipment pricing analyst Paul Hendrix of online auctioneer IronPlanet, more OEM dealers looking to stock their yards are bidding on used equipment beyond the wholesale price level – their traditional opt-out point.
In other words, there's plenty of competition out there for good iron. "The demand is outpacing the supply," says Rob Mackay, president of Ritchie Bros. Auctioneers, "and hence you start to see the price increases that we've experienced in the past 12 months." At the same time, notes Mackay, Ritchie's is a global market, sourcing not only buyers globally, but equipment also. The absolute auction platform is critical for buyers, "who are comfortable in the fact that they are not bidding against the owner or the auctioneer. At the end of the day, if they are the highest bidder, they'll own the equipment and they'll own it at market value that day."
Pank's a believer. "Ritchie makes no bones about it: 'Everything is sold at auction. Here are the facts, but still it's your risk.' We know that."
A contractor just wanting to keep his business operating can't ask for anything more than a fair deal, he says.
COMPELLING REASONS
The compelling reasons for filling your equipment needs with used iron:
It's available now. As cautious OEMs conservatively manage their assembly line ramp-ups, and rental fleets in particular move to replenish their fleets with large orders, contractors in need of a particular piece of equipment can face long waits for new iron. If you've actually got a specific job for that machine lined up, the work certainly isn't going to wait. Since most new equipment evolves from established product lines, there are used alternatives on the market, be they parked at an OEM dealership, on a dedicated used iron peddler's yard or sourced by increasingly global auction companies. "In a lot of equipment markets, especially in certain specialty areas, the supply is so thin right now at the dealer level that an auction purchase may be your only option if you need something in the short run," says Hendrix.
Like-new iron, like-new support.
Leading OEMs have developed their marketing models to include divisions and support programs dedicated to remarketing iron. Long gone are the days when the used equipment market was considered below the OEM and its authorized dealers, left exclusively to rogue peddlers working from dusty lots on back streets. "The used equipment that is sitting in the Caterpillar dealer's yard has been thoroughly inspected by trained technicians to know exactly what needs to be fixed, so we can be completely honest in disclosing the quality," says Tisdale. "Most often, the iron has been through some sort of make-ready and improvement, and things you would have to fix on your own if you bought it outside of a dealer network come already fixed. The machine is immediately ready to work."
Fair market value. Particularly when pursued via the absolute or unreserved auction route, there is no greater example of genuine value in the iron market than used equipment. Quite simply, it's worth what the market is willing to pay for it at that exact moment. "It is the true market value," says Mackay. Be it two bidders standing three feet apart in a field, or 1,000 bidders all over the world clicking their computers, that excavator or motor grader will be sold at whatever price the market determines. "Truly, that day, anybody in the world who needed that particular machine was trying to buy it," says auction customer Pank.
You are more informed now.
The instantaneous nature of information today has placed unprecedented knowledge and thus power at the fingertips of buyers. "Seldom are there any what we would call 'steals' anymore out there," says Mackay, whose company the very morning he spoke had just closed off an auction in Spain and was wrapping up another in Montreal, "and everyone knows instantly what stuff is selling for. They are more informed when they go to buy, or trade in, or even sell on their own."
No use for new. Whether it's on a prime machine in production every day or particularly a back-up unit for simpler jobs, some customers are reluctant to embrace – or simply don't need – new technologies that are increasing the cost of new iron. "For them, used equipment even regardless of price might be a better investment," says Tisdale. "They know how to operate it, they know how to maintain it, and they just may not need all the bells and whistles for a particular job or their particular business."
As business has improved, including dealers and rental companies placing large orders to finally replenish their fleets, wait times have been extended for certain new products. This has had a positive effect on the used equipment market, says Tisdale. Equipment coming out of rental fleets and onto the used market is older than in the past, "so there are a bigger variety of price points now that the customer can choose from in the used market," he says. "There's not as many of the late-model, low-hour, near-new machines, but there's a lot more of those middle-age-range machines."
Machines, says Pank, just primed to go to work. EW
Why Rent?
A sour economy has underlined – and put a few exclamation points behind – the rental option
There's an interesting split going on in rental these days.
"Almost every national rental company has seen double digit growth, and that's not with double digit growth in the end markets," says Matthew Flannery, executive vice president, operations and sales, United Rentals. "I don't see it slowing down in the near term."
Working with the American Rental Association, IHS Global Insight projects total North American construction and industrial equipment rental revenue to reach an annual growth rate of 18.9 percent in 2015. That equates to more than $29 billion in revenue in 2015, well above the 2007 peak of $25.4 billion.
And yet in this revitalized rental market many contractors are still struggling to find work. What gives?
Perfect rental market?
The deep depths this industry has gone through has created the right conditions for the rental market.
"Contractors are becoming totally aware of rental and using it at a much higher degree than in previous economic cycles," says Christine Wehrman, CEO of the American Rental Association.
Recent growth by national chains bears this out. As of press time, United Rentals just bought Blue Mountain Equipment Rental, its fourth buy in 2011. Volvo Rents, converting from a purely franchise model to a mix of both franchises and company-owned stores (see story on page 43), made more than 50 acquisitions since its reorganization announcement last year. And RSC now has 51 express locations, start ups that allow it quick entry into an area, and the ability to take time to make a brick-and-mortar decision.
And, Wehrman says, independent companies continue to remain "as strong as ever. They are also replenishing their fleets. And regardless of the size of the rental company, it's still a relationship business."
"This is the greatest period for rental sampling than has probably ever existed because more people are challenged with buying," says Frank Roth, RSC's vice president of marketing and innovation. "It's a chance for us to showcase how competitive rental can be against ownership."
Core reasons
The core reasons to rent haven't changed much, but the economy has underlined and put a few exclamation points behind them:
Freeing capital. With access to capital a challenge, how you use it becomes even more critical. Renting instead of buying frees up your capital for other needs, and in some cases may be the only alternative if financing is denied. "Rental helps you manage your capital risks," says Chris Gustafson, rental and used equipment division manager, Caterpillar.
Flexibility. The type and number of rental machines can be easily adjusted and different jobs require different solutions. NES points out that a contractor may need a 40-foot lift for one job, a 60-foot lift for another, and an 80-foot lift for still another. You don't have to use an inefficient machine just because you have it on hand. And rental companies are constantly evaluating their fleet mix. For example, backhoes may have been hot a few years ago, but instead of just replacing backhoe for backhoe, rental firms can opt to buy another machine instead. "It's as much about getting the right fleet as it is about replacing the old fleet," Flannery says. As an example, United Rentals has targeted its earthmoving segment to grow from 14 percent to 20 percent of its total fleet mix.
Being able to concentrate on what you do best – build. Servicing equipment may not be your core competency and you may find keeping skilled mechanics on hand troublesome. Another thing to consider: will you be able to update their training, especially in light of Tier 4 engine maintenance complexities? Rental firms say they can handle these issues. For example, aerial-lift rental provider NES has a two-hour service call window: Call at 10 a.m. and a service tech will be there by noon to assess if it can be fixed on site. If a machine has to go back to the shop, another unit is called in.
New areas, same service. National rental companies argue their processes make it easier for contractors to go after jobs outside their normal geographical areas – accounts and service are in place and renting eliminates the transportation costs you would incur hauling your equipment to a new locale.
You don't have to decide right now.
Rental purchase options, a popular alternative especially for heavier machines, give you the flexibility to delay the purchase decision. Opt to buy 90 days later and a portion of your rental will be applied to the purchase agreement. Opt out, and it becomes a straight rental.
Reliability. "Contractors are now hypersensitive to downtime, because if they win the job, they need to get the repeat business, and any downtime becomes even more expensive," RSC's Roth says. And while rental companies still keep a sharp eye on fleet age, they also say their maintenance standards keep their fleets functioning at a high level. Even age can be misleading, though. NES's core equipment – scissors and booms – don't age like earthmoving equipment. A scissor will rise to the work area and then be shut off for most of the time a person is working, as opposed to a dozer running an eight-hour shift, says Chris Bowers, NES senior vice president, customer strategy, sales and marketing.
Efficiencies. You can take advantage of the inherent efficiencies of rental companies have in managing large, diverse fleets, says Cat's Gustafson. "It's a standard expectation in the rental industry, for instance, that we're good at pickup, delivery and invoicing." And rental companies have systems to help you efficiently manage your rental option. NES sends out an email to customers upon delivery. United Rentals gives its customers a scorecard of how the company has performed in key metrics measured on a daily basis. RSC's Total Control software allows higher rental volume users to track and control rentals via a smart phone or computer.
Overall lower total cost. "People perceive rental as a higher cost, but in reality, it's a much more efficient model," says RSC's Roth. Consider all your ownership costs – maintenance, parts, transportation, insurance, etc. – when you look at a per-hour rental rate. But do know that rental rates in most areas are rising – they rose 4 to 6 percent last year and are expected to continue to rise another 5 to 6 percent this year. Rental companies are quick to point out, however, that rates dropped around 20 percent during the downturn, and are still not at 2006 levels. Another factor that will up rates: Tier 4 engine costs that have increased new equipment prices 8 to 10 percent.
Manage emissions requirements.
Rental is one way to both get newer, emissions compliant machines into your fleet, although the demand for Tier 4 rental machines to meet regulations is still in the early stages. RSC's E2T emissions tracking program allows renters to calculate emissions for their equipment rentals. In addition to meeting regulations, E2T can help prove compliance with a client's sustainability goals. EW
Late-breaking news: In a $4.2 billion transaction, United Rentals has bought the number-two player in the rental market, RSC Holdings. United Rentals says the buy creates a company with "more attractive business mix, greater scale and enhanced growth prospects." In addition, the combination will accelerate United's growth with industrial customers and "provide a lower cost base and less volatile revenue profile to better position the company through all phases of the business cycle."
Current/Normal workload*
Current
Less than 6 mos. 57%
6 mos. to 1 year 31%
1 year to 18 mos. 6%
Normal
Less than 6 mos. 14%
6 mos. to 1 year 47%
1 year to 18 mos. 25%
We asked our readers to compare how much work they currently have on the books with how much they normally have. Work uncertainty is one of the primary reasons cited for rental growth.
*September 2011 survey, 301 responses