By Amy Materson
JAWBREAKER
Crush up to 750 tons per hour with the Powerscreen Pegson XA750 mobile jaw crusher from Terex. Fitted with a hydraulically driven pan feeder and live pre-screening unit, the Pegson XA750 removes fines and sizes prior to crushing while avoiding packing and unnecessary manganese wear. A 55-by-32-inch unrestricted feed opening delivers a consistent feed to the jaw crusher and prevents bridging. A hydraulic closed side setting adjustment system controls product sizing at the touch of a button.
Visit EquipmentWorld.com/info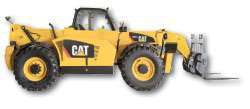 EASY LIFTING
Reach heights of 45 feet with Caterpillar's TH514 telehandler, which offers an 11,000-pound load capacity and 30-foot 3-inch forward reach. The TH514 features a 101-horsepower turbocharged engine, and a limited slip differential is fitted in the front axle. All three boom functions operate simultaneously, and load sensing hydraulics deliver smooth control for difficult sites. A new cab promotes visibility and features a single lever joystick with roller switches for easy operation. Readily accessible service points and ground level components simplify maintenance.
Visit EquipmentWorld.com/info
EDITOR'S PICK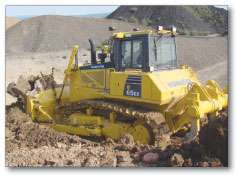 CAPABLE CRAWLER
Perform heavy dozing and finishing operations with Komatsu's D65-16 crawler dozer, which provides 205 horsepower at 1,950 rpm and feature an automatic transmission with torque converter lock-up that improves fuel economy. The torque converter automatically transfers engine power to the transmission for a fuel savings of up to 10 percent. The dozer also has automatic or manual gear shift modes and two selectable working modes – E, for general dozing, leveling or spreading, and P, useful when slot dozing and ripping. Choose from Komatsu's Sigmadozer blade, which has a blade capacity of up to 7.72 cubic yards for grading productivity, or a six-way PAT blade for versatility across a range of applications. The D65-16 is available in standard, low ground pressure and wide track models, and weighs in between 43,690 and 48,940 pounds. Joystick controls with Palm Command Control System improve fine control while reducing operator fatigue, and a simple electronic throttle control dial controls engine speed. A new cab design with ROPS moves the operator's seat 4 inches closer to the blade for better visibility, reduces shocks and vibration and limits noise to 75 decibels. Routine maintenance is simplified with daily engine checks grouped together in a convenient location, and a manually reversing fan that allows the operator to clean the radiator without leaving the cab. The standard PLUS undercarriage has a rotary bushing system for extended life.
Visit EquipmentWorld.com/info
What's new:
• Fuel savings of up to 10 percent
• Cab design moves operator 4 inches closer to the blade
DEEP CUTS
Husqvarna's K760 Cut-n-Break deep power cutter includes a breaking tool that breaks the central core after cutting with twin 9-inch blades, allowing you to cut to 16 inches without overcutting. The dual blades are resistant to thermal strain and can cut at high speed. The dual intake X-Torq engine lowers emissions and fuel consumption, and a filtration system reduces maintenance. The K760 also has a vibration and sound dampening system to reduce fatigue.
Visit EquipmentWorld.com/info
BREAK IT UP
Crush brick, demolition rubble, rock and other construction waste with JCB's crusher buckets for tracked excavators. The buckets come in three models – the 0.59-cubic-yard CB60, the 0.78-cubic-yard CB70 and the 0.98-cubic-yard CB90. They use a fixed jaw in the base and a hinged jaw in the roof that can produce material in sizes from less than an inch to 4 ¾ inches. Two lubrication points with 30-hour greasing intervals ensure simplified maintenance.
Visit EquipmentWorld.com/info
POWERFUL PUMPING
Perform a range of concrete and shotcrete applications with Blastcrete's Model RD6536 skid steer pump attachment, which pumps grout materials, 3/8-inch shotcrete and 3/4-inch structural concrete mixes at a variable speed of up to 25 cubic yards per hour and requires 18 gpm at 3,000 psi. The receiving hopper features a hydraulic agitator that keeps the mix blended and prevents aggregate and sand from settling to the bottom and clogging the suction area. The pump attachment can reach a vertical distance of 50 feet and a horizontal distance of 250 feet.
Visit EquipmentWorld.com/info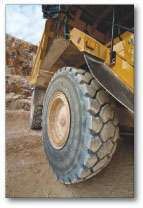 CUT CONTROL
Extend tire life and boost traction with Michelin's X-Traction tire, designed for rigid frame dump trucks operating in rocky terrain. The X-Traction's Cooling System shoulder design and C2 Technology casing architecture work together to reduce heat buildup at high speed. The tire also has thicker undertread rubber to resist cuts, and a tread that is 13 percent deeper than previous models, extending tire life by up to 15 percent. A tough tread that protects the casing also makes the X-Traction easier to retread.
Visit EquipmentWorld.com/info

SNOW SHIFTER
Turn your backhoe into a snow removal system with the BX-12 box plow from The Boss, which removes large volumes of snow in a single pass. A 12-foot-wide sectioned trip edge has segmented cutting edges to allow each 8-inch cutting edge segment to trip individually, allowing the remaining edges to remain in contact with the surface. Self leveling articulating end plates reduce wear on the shoe heel and keep the scraping edge close to the ground. The BX-12 attaches to any backhoe or loader with a Quickhitch system.
Visit EquipmentWorld.com/info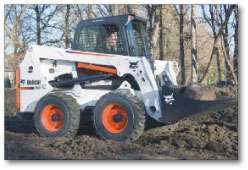 ROCK REMOVER
Quickly remove rocks and debris with Bobcat's rock bucket, designed for Bobcat skid steers, compact track loaders, all-wheel steer loaders, Toolcats and VersaHandlers. Available in 62-, 68-, 74- and 82-inch widths. The bucket's skeletal design ensures the operator can always see the cutting edge. The buckets feature fully gusseted tines on each side that are interconnected to boost strength, and provide a sifting capacity to help separate the material.
Visit EquipmentWorld.com/info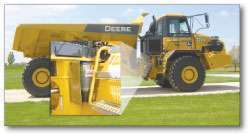 MINIMIZE MAINTENANCE
Eliminate daily lubrication with Lincoln's Quicklub system, an automatic lubrication system designed for John Deere 350D and 400D series articulating dump trucks. The system ensures all components receive predetermined amounts of grease while in use, lubricating critical wear surfaces and sealing out rock dust, dirt, sand and water. The Quicklub system meets Deere's standards for location, mounting and protection, and can be installed on a new or used truck.
Visit EquipmentWorld.com/info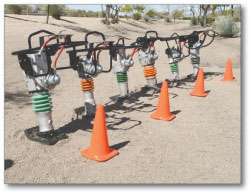 GREEN MACHINE
Convert any gas-powered tamper to a compressed air model with Higher Innovative Solutions' conversion kit, designed for use with any brand of tamper. Once the motor is converted from the gas engine to pneumatic power, a hose connects the tamper to an air compressor. An easy-turn valve ensures ease of use.
Visit EquipmentWorld.com/info