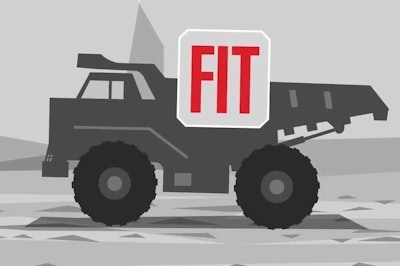 Cummins Filtration has announced FleetguardFIT, what it calls "the first complete real-time filtration monitoring system" that provides actionable data on filter and oil life through the use of sensors and data analytics.
Cummins says FleetguardFIT provides fleets and customers the ability to proactively detect problems allowing them to avoid downtime, reduce repair and maintenance costs and improve total cost of ownership. The system provides "full visibility" to your equipment's filter and oil life.
The company explains in the video below, that integrated sensors use your machine or truck's existing telematics to transmit data about how the engine and filters are performing. Once that data is transmitted to the cloud, FIT performs analytics on the information and then delivers recommended actions via the FIT portal (which requires a subscription) and app.
Cummins says the portal and app informs customers how many miles or hours are left before service is needed, allowing them to schedule service only when needed and even synchronize maintenance with other service events.
FleetguardFIT has been installed on various equipment applications in industries such as mining, rail, truck, bus, and power-generation across the globe. Cummins says its test show that the system can reduce expenses tied to oil and filters by up to 55 percent while reducing maintenance time up to 44 percent. In addition, FIT can reduce unplanned downtime by 15 percent.
The company says FleetguardFIT works with many engine platforms and applications, Cummins or otherwise.
"FleetguardFIT allows customers to precisely understand the condition of filters and oil based on real-world usage, which is a significant improvement over the current and conventional maintenance schedules that are based only on typical duty cycles," Amy Davis, general manager, Cummins Filtration, said in a statement. "By knowing exactly what is occurring, customers can use the equipment more efficiently, reduce maintenance costs and ultimately enhance their bottom line. FleetguardFIT is a terrific product that delivers great economic value to our customers."
To learn more about FleetguardFIT contact info@fleetguardfit.com or visit cumminsfiltration.com/FleetguardFIT.