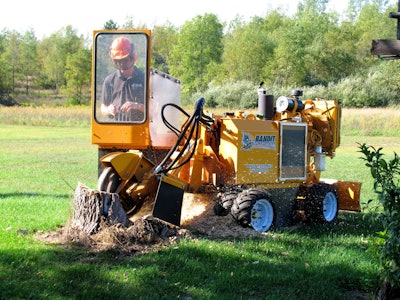 Reduce downtime and maintenance with the Model 2550XP self-propelled stump grinder from Bandit Industries, which features beltless hydrostatic direct-drive, eliminating the need for a clutch, jackshaft, drive belt, belt tensioning system and other components associated with a traditional belt drive. Available with up to 44 horsepower, the stump grinder cuts at a maximum depth of 13.5 inches with a 50-inch swing arc. 
Machine features include rubber chip curtains on the operator's console and the machine for improved chip containment. A swing-out operator's station provides the controls for the drive system, cutter wheel swing and up and down cutter head movements, while still positioning the operator for the best view of the grinding action. The 2550XP has standard flotation tires and engine options including 35- or 38-horsepower gasoline or 35- or 44-horsepower diesel engines. 
Available options include a four-wheel-drive system, wireless remote control with tether backup and a hydraulic grading blade for cleanup after stump removal.