By Amy Materson
 EDITOR"S PICK
FUEL SAVER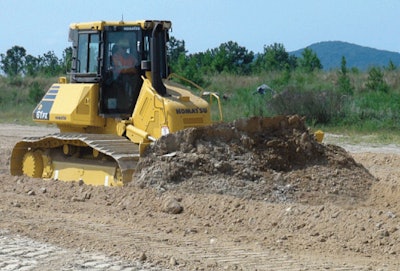 Perform a range of applications that include land clearing, grading and site prep with Komatsu's line of D61-23 crawler dozers, which deliver 130 to 160 horsepower and are available in low ground pressure models. The Tier 4 Interim engine lowers fuel consumption by up to 10 percent with no horsepower reduction, and an advanced electronic control system manages airflow rate, fuel injection, combustion parameters and aftertreatment functions. Fuel economy is also increased by the HST transmission and engine control technology, which has two selectable working modes. The diesel particulate filter's
integrated design has a smart system that alerts the operator as to the DPF's status without interfering with daily operations. A variable geometry turbocharger and exhaust gas recirculation valve boosts precision and component life. The D61-23 has a sloped engine hood and forward cab design that offers more space for the operator while also improving blade visibility. Additional features include a redesigned, quieter cab, a new power angle tilt blade with a durable box structure, newly designed joystick controls and easy-to-access maintenance points.
Visit EquipmentWorld.com/info
TIGHT TURNING RADIUS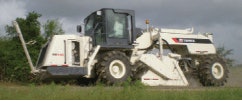 Boost performance while saving fuel with Terex's RS446D reclaimer/stabilizer, which has a 415-horsepower diesel engine that cuts fuel costs by up to 30 percent, compared to previous models. The RS446D has a 96-inch cutting width and a maximum 20-inch cutting depth. A two-stage engine drive and three-speed cutter transmission increases breakout force. The engine configuration also reduces noise levels by 5 decibels. The machine's design includes a hydraulically tilting hood that allows for quick access to engine components. The true rear axle design has kingpins at the wheels for a tight pivot, enabling a 14-foot turning radius.
Visit EquipmentWorld.com/info
SPEEDY SCREED

Experience high speed production with the ScreedSaver Max leveling screed machine from Ligchine International, which has an undercarriage that spins 90 degrees to allow the operator to drive parallel to the pour. A 35-horsepower Kubota diesel motor powers the machine, which has four-wheel stability and proportional front wheel drive and rear wheel steering. A 12 1/2-foot-wide screed head and 16-foot boom reach delivers 200 square feet per pass or up to 8,000 square feet per hour. Additional features include a remote control radio system, one-piece plow/auger/vibrating screed head and an auto leveling system.
Visit EquipmentWorld.com/info
PERFORMANCE BOOSTER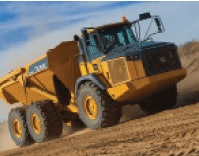 John Deere's largest articulated truck, the 46-ton 460E ADT, has a PowerTech 13.5-liter Tier 4 Interim engine that delivers 481 net horsepower and has three power levels. A ZF transmission has a high capacity retarder and eight forward and eight reverse gears. Hauler axles with on-the-fly differential locks and outboard planetaries ensure performance in heavy duty applications. Each axle is independently pressure lubed and filtered and E-Series axles have internal wet disc brakes that use independent cooling circuits. In automatic mode, the differential lock system automatically controls the axle differential locks and the inter-axle differential lock while moving, to help navigate soft or difficult terrain. Additional features include ground level servicing, an adaptive suspension control system and ergonomic controls.
Visit EquipmentWorld.com/info
MOISTURE REMOVER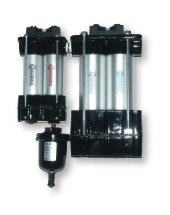 Extend tool and equipment life with LA-MAN's compressed air system SuperStar .01 micron filters that remove moisture and contaminants from air lines. The four-stage filter has a charcoal absorption element for .01 micron rating with flow ranges of 50, 75 or 100 scfm and 250-psi pressure ratings. Built-in differential pressure gauges provide a visual indicator for required maintenance, which can be achieved without removing the unit. An automatic float drain enables moisture discharge with no electrical requirements.
Visit EquipmentWorld.com/info
CONVENIENT PORTABILITY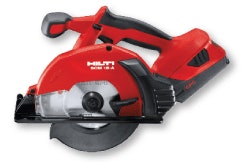 Experience smooth performance in metal cutting applications with the SCM 18-A cordless metal cutting circular saw from Hilti, which offers cold cutting technology to handle material such as threaded rod, rebar and thick steel. The saw is portable for easy movement around the jobsite, and includes features such as a clear vision pane that allows for a better line of sight, and an LED light to improve work surface visibility.
Visit EquipmentWorld.com/info
COMPACT COMPRESSOR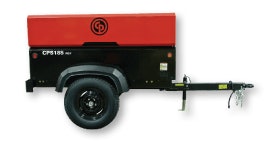 Chicago Pneumatic's CPS 185 PD7 portable air compressor has a 49-horsepower Perkins Tier 4 Interim engine and a direct drive air end that delivers 185 cfm, with a working pressure that can be adjusted from 58 to 125 psi. The rotary screw compressor is a compact unit with torsion bar suspension, 15-inch tires and wheels, a folding towbar, rear bumper, single point lifting eye, hinged hood, tool box, recessed towing lights, lighted license plate bracket and adjustable height jack leg. It also has a galvanneal steel sound suppressed enclosure, and a one-piece canopy with gas struts that ensures simplified maintenance. The control panel has an electric fuel gauge, air pressure gauge and sealed hour meter, and the centralized control system has a cold start aid and fault lights, as well as shutdown switches for low engine oil pressure, high engine coolant temperature, high compressor oil temperature and low fuel.
Visit EquipmentWorld.com/info