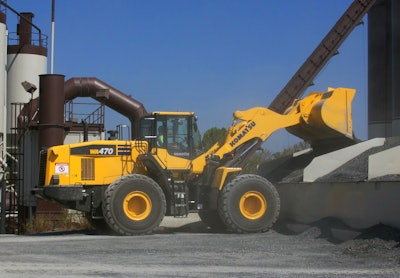 Today, Komatsu introduced the new WA470-7 wheel loader. Powered by a Komatsu Tier 4 Interim-certified SAA6D125E-6 engine with 272 net horsepower, the WA470-7 boasts increased power and an 8 percent reduction in fuel consumption.
The new machine weighs in at 52,007 pounds and features Komatsu's Smart Loader Logic (KSLL), adjusting torque to the application at hand and saving fuel in the process. The WA470-7 also features Komatsu's new Large Capacity Torque Converter with Lock-Up. The feature activates in second, third and fourth gears and provides a ground speed of 23.8 miles per hour with quick acceleration and hill climb ability. Because of that tractive effort, the WA470-7 performs well in V-cycle applications.
Komatsu has integrated its Tier 4 technology with the KOMTRAX telematics system which logs data including operating hours, fuel consumption, location, cautions and maintenance alerts. KOMTRAX wirelessly transmits this data to its website for later analysis and remote diagnosis.
Inside the cab, Komatsu has provided greater visibility over previous loaders as well as a quieter and more comfortable space. Amenities include an auxiliary input for connecting a smartphone or MP3 player as well as two 12-volt ports to power or charge up other devices. A new 7-inch monitor makes it easy to modify settings, check operation or maintenance data and view tips on reducing fuel consumption.