Big Power, Small Package
Compact track loaders offer versatility and a return on your investment
By Wayne Grayson
Boasting many of the benefits and capabilities of its cousin, the best-selling skid-steer loader (SSL), the compact track loader (CTL) has altered the landscape of the heavy equipment marketplace in a big way. That success has sparked much debate over whether a CTL or an SSL is the better investment. In the end, the choice comes down to matching the equipment to the application. CTLs are more versatile, able to work on soft ground and in wet conditions, but are also more expensive to purchase and operate than SSLs, which perform well on asphalt and in tighter spaces.
But what kind of changes have CTLs undergone themselves in recent years? With rising demand, the companies behind these versatile machines have not been content to let innovation stagnate. With new features that make for a more comfortable ride and a less disrupted jobsite, work is constantly being done to reinvent the wheel – or in this case, the track.
Explosive growth
Jamie Wright, Terex Construction Americas product manager, explains that CTLs saw a slow start in the U.S. market until about 10 years ago. "The CTL market shot up due to the demand that jobs get done faster and more efficiently," Wright says. Caterpillar senior marketing engineer Kevin Coleman calls the last decade of growth in the CTL market "an explosion," as more customers have grown to favor the traction, flotation, machine stability and minimal ground disturbance CTLs offer. "Compact track loaders are essential machines for many applications," Coleman says.
"The CTL market shot up due to the demand that jobs get done faster and more efficiently"
Bobcat loader product specialist Mike Fitzgerald agrees. "Compact track loaders are more powerful and productive than ever before, making them more than just an auxiliary piece of equipment," he says. "Because of the increased flotation provided with their tracks, these loaders can work in softer ground conditions while carrying heavier loads, plus their versatility has grown exponentially with attachments." Bobcat marketing manager Greg Rostberg adds: "Growth has been phenomenal in the last decade and many more manufacturers are producing CTLs because the demand is there."
Wright, however, disagrees. He says Terex has seen a shift in favor from the CTL back toward the skid steer loader since the 2008 economic downturn. Wright estimates that CTLs make up between 20 and 25 percent of the market while SSLs hold between 75 and 80 percent. "The compact track loader trend started … as a result of contractors wanting to get jobs done faster, no matter what the acquisition costs or operational costs of the unit," he explains. "With the economic downturn, contractors were more selective and looking for ways to manage their equipment inventories more efficiently. As part of this, they are adding skid steer loaders back into their fleets since they are able to accomplish many of the same tasks at a lower operating expense."
Cost
Despite their versatility, the major drawback to CTLs has been their high initial investment and operating costs, compared to skid steers. However, each manufacturer that spoke with Equipment World say significant strides have been taken to address this issue. Coleman says, for example, the work Cat has done to maximize track life has contributed to making CTLs more affordable. "Track technology has advanced. Now track composition and construction better align with the rigorous load and weight requirements of a compact track loader," he says. "As a result, the life of the tracks is far better than what would have been achieved just a few years ago."
"With proper operation of the loader, rubber tracks should last about twice as long as tires," Fitzgerald says.
Bobcat's Fitzgerald says a CTL's operating cost can be drastically reduced by evaluating the types of applications your CTL performs best in, keeping them busy in those applications, calculating the increased productivity attachments may add and, of course, performing regular maintenance. "Rubber tracks cost $3,000 to $4,500 per set and last 1,200 to 1,600 hours. With proper operation of the loader, rubber tracks should last about twice as long as tires," Fitzgerald says.
Though CTLs are more expensive to purchase and operate, they can also be more cost effective than other loaders because they are able to operate in more jobsite environments. To prevent premature track failure, which can easily negate any added benefits the CTL offers, Wright recommends operators avoid the temptation of running CTLs in the same way they do skid steers. That means no counter-rotating and spinning the tracks, which sends a lot of material into the undercarriage.
"Compact track loaders have enough traction; the tracks do not need to spin to fill the bucket," he says. "If the tracks are spinning, and the machine is staying still, your track life will be greatly reduced. When you counter-rotate with a compact track loader, especially in loose underfoot conditions, a lot of material is ingested into the undercarriage. Three-point turns, rather than spinning or counter-rotating, will save on undercarriage wear."
If all goes well, Wright says a CTL can pay for itself in as little as 18 months. Fitzgerald adds that Bobcat has seen its CTLs add days – and in some cases, months – of income to its customers' seasons. When choosing a compact track loader, Wright recommends customers choose one that will be adequate for 85 to 90 percent of their needs. "Don't sacrifice just to save a dollar," he says. "Always buy quality; a loader and attachment needs to durable and reliable because downtime is expensive. Be sure to select equipment that makes the most sense for the applications it'll be used in."
"You should also consider the reliability of the machine/attachment and how well you know and understand its parts," Fitzgerald says. "Are you comfortable with the technology? If you can handle the small maintenance issues yourself, you can help reduce overall cost and downtime."
A smoother ride
When talking about how CTLs have evolved in the past decade, the conversation always comes back around to the tracks and undercarriage. "One of the significant advantages of tracked loaders is low ground pressure," Coleman says. "The greater the amount of track on the ground, the greater the traction and the lower the ground pressure." Recently, some manufacturers say they have been focusing attention on the suspension systems of these machines to lower ground pressure.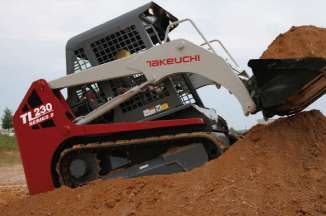 "Systems with suspended axles help distribute weight more evenly when a machine is loaded and also ensure tracks maintain maximum ground contact," Coleman explains. Caterpillar brought the torsion axle suspension system from its multi-terrain loader platform to CTLs such as the 259B3, providing the machine with an independent, fully-suspended steel-embedded rubber track undercarriage. "The undercarriage suspension on both the CTL and the MTL undercarriages distributes the machine load to greatly reduce shock and vibration throughout the machine so that the operator is more comfortable. This decreases owning and operating costs by allowing the suspension to absorb the shock loading that would normally be driven into your tracks."
Coleman says in the under 3,000-pound operating load size class customers are "seeking substantial performance increases" in both the engine and hydraulics "to allow these small-frame machines to perform as larger machines in confined spaces. Essentially customers want a power dense machine." He says Cat's 257B3 and 259B3 models were updated in 2010 to meet that demand.
And while some companies use the same frames for both their SSLs and CTLs, Terex says it builds its machines as CTLs from the ground up with its Posi-Track technology. Wright says all Terex undercarriages are built with a torsion axle suspension that also creates a comfortable ride while reducing vibration and shock to the machine. In order to provide more even weight distribution, Terex designs its CTLs with a greater number of bogie wheels, lowering impact when traveling over rocky or rough terrain.
And though most of the industry has opted for a steel-embedded track, Terex uses its own all-rubber track, which Wright says is lighter in weight than steel-embed tracks and extends the life of the undercarriage components. "Unlike with steel-imbedded tracks, rust and corrosion are not a problem," he says.
Fitzgerald says one of Bobcat's biggest design changes has been its roller suspension system for CTLs, which uses an all-steel design with steel-embedded tracks. "A comfortable ride is achieved by the durable steel leaf springs, which greatly reduce the feedback from the ground," he says. "The smooth ride coupled with easier turning, less vibration and noise, works to keep operators more comfortable." He added that Bobcat's roller suspension system features an enclosed steel undercarriage with few moving parts, to minimize maintenance costs. Forged steel rollers and idlers are permanently sealed and lubricated, requiring no routine maintenance. Fitzgerald noted that track tensioning is also easy, requiring no special tools – just a normal grease gun.
In addition to the roller suspension system, Bobcat has worked to keep up with the more sophisticated electronics in machines. The company's Deluxe Instrumentation Panel option offers contractors the ability to monitor various attachments, machine management, security and system protection, as well as troubleshoot issues.
Takeuchi has a different take on the undercarriage entirely, says David Steger, product manager. Rather than a suspension system, Takeuchi CTLs, including the TL230 Series 2, ride atop a fully-welded and integrated track frame that incorporates a unitary design. "We use forged-steel rollers riding directly on a pad of metal imbedded into the track…we feel that gives us some additional durability along with wider operating ability," Steger says.
Steger adds that Takeuchi's also working to increase an operators' ability to tailor a CTL's power output for the work being done. "Our newer machines have an Eco Mode feature that was inspired by the auto-idle found on excavators," he says. "It reduces the maximum rotations per minute that an operator can achieve while maintaining torque and horsepower. If the engine load is below 35 percent, the engine rpm will actually decrease even more. And when the load exceeds that, the engine speeds go back up." Steger estimates Eco Mode could save a contractor up to 50 percent on their fuel bill.
Looking forward
What does the future look like for these machines? Is it possible for CTLs to overtake the skid steer loader in popularity and market share?
"The track loader market has really taken off in the last decade, with the largest market in North America. I believe that the benefits a track loader model provides will become more recognized in other regions and increase their track adoption rate," Coleman says. "However, we don't see the compact loader market in terms of popularity of tracks versus wheels."
Bobcat's Rostberg says while the CTL market share will continue to grow, there will always be a demand for wheeled machines. "This is especially true in applications involving concrete or asphalt, or if an operator needs to travel a significant distance on a jobsite," he says. "Demolition applications are also best approached with a wheeled machine with solid-filled tires. In those cases, skid-steer loaders will always perform better."
Wright says Terex has a positive outlook on CTL sales due to their versatility in numerous applications. Rental is in fact one of the top markets for CTLs," he says. And while he isn't sure if they will ever surpass SSLs in popularity, Wright doesn't rule out the possibility of their matching SSLs in sales. "As the construction industry continues to recover, compact track loaders could again become as popular as skid steer loaders because their productivity is incredible."
ROUNDUP
Takeuchi
Takeuchi's TL230 Series 2 has a radial boom design that provides the lift height and reach you would expect from a vertical lift design but with the added performance benefits of a radial lift. The TL230 Series 2 produces increased bucket breakout force, lift arm breakout force, and traction force over the previous model. Double reduction, planetary drive motors provide both high travel speeds and enhanced pushing power for easy maneuvering with heavy attachments. Takeuchi's integrated frame design puts more torque and power behind the TL230 and the welded track frame incorporates a unitary design with full-width structural cross members that add strength and rigidity to the entire machine. Takeuchi's undercarriage design uses steel-to-steel contact between the track and rollers for greater durability when operating in extreme conditions.
For product info, visit takeuchi-us.com.
Caterpillar
By combining its small-frame CTL platform with its 71-horsepower C3.4T DIT engine, Caterpillar designed the 259B3 to take on tough jobs in confined spaces. With features such as an independent, fullysuspended steel undercarriage, steel-embedded rubber tracks, powerful hydraulics and a refined operator's station, the 259B3 has a rated operating capacity of 2,950 pounds and works well in poor soils and harsh environments. The C3.4T DIT is Tier 4 compliant and designed to deliver ample speed and torque in difficult applications while reducing fuel consumption and lowering sound levels. The machine's cab has pilot-control joysticks, which provide precise control of auxiliary-hydraulic functions.
For product info, visit cat.com.
Bobcat
Bobcat's mid-size radius lift path K-Series T180 provides plenty of tractive effort, breakout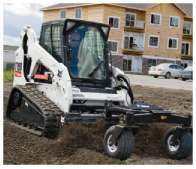 force and pushing power for dirt-moving jobs. With 66 horsepower, a rated operating load of 2,748 and a 9.5-foot bucket-pin height, the T180 has the hydraulic flow to power a wide range of attachments and finger-tip controls to operate them easily. Pressure-release quick couplers mean clean attachment changes in under a minute. The cab offers more room than previous models, a large door and great all-around visibility while sight lines to the tracks boost productivity in tight areas. And as all Bobcat loaders equipped with selectable joystick Control or all-wheel steer, the T180 can be operated by an optional radio remote control allowing operation without an operator in the cab.
For product info, visit bobcat.com
New Holland
Part of New Holland's 200 series of compact track loaders announced in 2011, the company's C227 was designed from the ground up with operator input in mind. Featuring New Holland's vertical lift Super Boom design, the C227 features a height to bucket pin of 123 inches and a 22-inch bucket reach. Powered by an FPT turbocharged diesel engine, the C227 has a rated operating load of 2,700 pounds and a bucket breakout force of 7,147 pounds. The machine's undercarriage design features fewer moving parts than a suspension track system so it is easier to maintain while the wider cab features plenty of head and foot room, better visibility and keyless start.
For product info, visit newholland.com.
Case
The 74-horsepower Case TR270 compact track loader digs, pries and pushes, using a,radial-lift design and a rated operating capacity of 2,700 pounds. And with a 10.5-foot bucket-pin height, the two-speed machine loads trucks with ease. The TR270 features a dozer-style undercarriage, which holds fast on steep slopes and provides better traction in muddy or sandy terrain. The loader also features improved visibility and operator comfort with a sealed cab that is 25 percent larger than the previous model. More than 70 different attachments are available for the TR270.
For product info, visit case.com.
John Deere
With a 63-horsepower engine and 2,800-pound rated operating load, the John Deere 319D has been upgraded for operator comfort with a larger, quieter, pressurized cab with improved visibility and a curved-glass swing-out door. The 319D is powered by a John Deere PowerTech E4034HT Tier 4-certified diesel engine with a cooling system and an optional hydraulically driven variable-speed fan that reverses to clear core-clogging buildup. Steel-reinforced tracks provide traction, longevity, and breakout force. Optional features of the machine include an electrohydraulic joystick, variable boom and bucket speed settings, and more than 100 attachments.
For product info, visit johndeere.com.
Gehl
Gehl's RT Series compact track loaders feature a welded, dedicated track loader chassis rather than a skid loader chassis with bolt-on track assembly. To prevent premature track and undercarriage failures from improper track tensioning, the loaders' HydraTrac automatic track tensioning system automatically provides the correct tension for the track system. Both the RT175 and RT210 are powered by turbo-diesel engines with increased torque for better traction and stronger digging forces. The RT175 has a 2,500-pound rated operating load and the RT210 has a rated operating load of 3,000 pounds. The RT Series compact track loaders also feature AntiStall technology, which optimizes performance during heavy-duty cycles while not allowing the engine to stall.
For product info, visit gehl.com.
[photo: RT175_DumpDirt]
IHI
With 67 horsepower and a 2,458-pound rated operating load, the IHI CL35 offers a large cab and precision movement thanks to consolidated joystick controls. The two-speed compact track loader is fuel-efficient, offers more than 14 cubic feet of capacity and a hydraulic system that accurately responds to the will of the operator. The CL35 provides comfort, ease of use and maintenance, eco-friendliness, durability and reliability.
For product info, visit ihices.com.
JCB
JCB's 205T compact track loader is maneuverable in tight, confined areas and is easily transported from jobsite to jobsite. Powered by a 60-horsepower Perkins engine, the 205T has a rated operating load of 2,929 pounds. The 205T is a vertical- lift machine offering increased capacity and greater reach at its nearly 10-foot lift height. JCB touts the 205T's serviceability, noting the large opening rear door with a tilting cooling pack providing total access for daily service and routine maintenance as well as a tilting cab offering unrestricted access to the machine's inner workings. Overall, the 205T has 38-percent fewer parts, 25 percent fewer leak paths and O-ring face seal fittings throughout than the previous model, reducing the need for maintenance. The machine's large cab comes standard with a mechanical suspension seat and is accessible by a side-entry door that allows the operator to enter without climbing over any attachments. JCB offers 31 families of attachments for the 205T and the machine is available with an optional hydraulic quick-hitch that enables operators to change attachments in the field at a rate JCB says is 33 percent faster than previous models. For product info, visit jcb.com.
Mustang
Mustang's 1750RT and 2100RT compact track loaders feature optimized radial lift booms, offering enhanced strength and optimal forward reach at trailer-loading and dumping heights. The 1750RT has a rated operating load of 2,500 pounds while the 2100RT is rated at 3,000 pounds. Both loaders are powered by Yanmar Tier 3 diesel engines. The 1750RT's naturally aspirated engine produces 179 foot-pounds of torque, while the 2100RT's turbocharged engine produces 206 foot-pounds. The loaders offer a 10.5-foot lifting height, cabs with electro-hydraulic joystick controls and Mustang's "5×5" Drive Control System, which has five settings that change five parameters to suit operator preference and application requirements. The 1750RT and 2100RT feature a welded, dedicated track system that enhances grading and traction for a smoother ride.
For product info, visit mustangmfg.com.
Terex
With a 4-foot profile, the PT-30 is the smallest compact track loader in the Terex lineup and offers productivity in limited access areas. With 33.7 horsepower, a rated operating capacity of 950 pounds and a low amount of ground pressure at 3.0 psi, the PT-30 allows you to work on soft or sensitive surfaces with minimal damage or impact. Like the larger PT-60, the PT-30's loader arm features a quick-attach interface, allowing it to attach easily to an auger, backhoe, brush cutter, tiller, trencher, buckets and more. The PT-30 comes standard with a general purpose track on Terex's Posi-Track undercarriage technology and suspension; the Turf Track option offers a smooth tread designed for landscapers and others working over fragile or improved surfaces.
For product info, visit terex.com.
Volvo
The 1,900-pound rated operating load Volvo MCT85C has a 60-horsepower engine, providing 138 foot-pounds of torque and is designed for truck loading and a wide range of material handling applications. The reinforcement of a single loader arm provides reliability and effectively distributes the load. Visibility is enhanced without the horizontal cross member found on two-arm vertical lift machines. The cab also has a large top window for improved visibility during truck loading. Due to the single loader tower arm design, Volvo says cab access is easier and safer than traditional compact track loaders. Operators enter and exit the cab through a large, wide-opening side cab door. This eliminates the need for operators to climb onto and over the bucket or attachment, which can be muddy or slippery.
For product info, visit volvoce.com.