Miller Electric's latest welder/generators deliver significant fuel savings, noise reduction
By Amy Materson
The key word for Miller Electric's new Trailblazer 275 and 375 engine-driven welder/generators is "reduction." Designed for applications including general construction, structural steel and maintenance and repair, the units offer a significant benefit when compared to previous models, Miller says. The product delivers up to a 35-percent reduction in fuel use while extending runtimes by up to 50 percent. Sound has also been reduced – up to 68 percent when compared to previous models. According to Josh Stiever, product manager, you'd need 12 of the new Trailblazers to create the noise of just one of the previous models.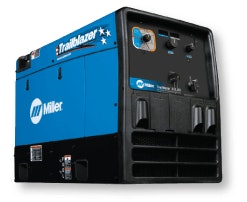 The new units are also compact, with a footprint that's 5 inches shorter and 108 pounds lighter than before. The welders' Auto-Speed technology automatically adjusts the engine speed based on usage. Miller estimates the new Trailerblazer will create annual fuel savings between $462 and $1,523, with the higher savings coming from using the optional Excel power, which allows you to weld and run tools at a 2,400 rpm idle speed instead of 3,600 rpm.
Another option is Electronic Fuel Injection, which ensures the unit runs at peak fuel efficiency no matter the application. Excel power paired with EFI allows for 19.5-hour runtimes on a 12-gallon tank of gas, with typical usage. Standard Smart-Cor technology delivers independent weld and generator power that ensures there is no interaction between the welding arc and jobsite tools.
The Trailblazer series provides Stick, MIG, Flux-Cored and DC TIG welding, and carbon arc gouging, and the generator can power plasma cutters for additional cutting and gouging. The units offer 275 and 325 amps of welding power at 100-percent duty cycle, respectively, as well as 12,000 watts peak and 10,500 watts continuous generator power.