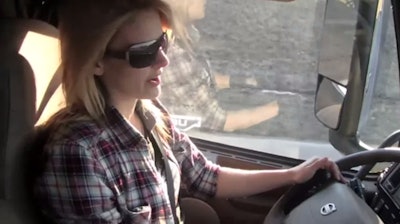 While kicking around at the Mid-America Trucking Show a couple of weeks ago, our sister site Overdrive scored an exclusive interview with "Ice Road Truckers" star Lisa Kelly.
Overdrive Executive Editor Jack Roberts (who does double duty as this site's Trucks Editor) sat down for a chat with Lisa as she test drove a Volvo VN670 through Louisville, Kentucky on Interstate 65.
After the interview, which you can view below, Jack began being asked what a reality TV star like Lisa is like. So he wrote some of his thoughts down in a blog post. We liked this thought best:
"Every now and then you'll hear somebody mutter that the IRT guys decided they needed a woman on the show, went out and found Lisa, rushed her through a driving school and threw her behind the wheel. But as I rode with her, I discovered that she's actually a damn good driver with an inherent understanding of machinery and a passion for machinery, engines and making them perform as efficiently as possible. Her take on automatic transmissions coming on strong these days is illustrative of this point: She's not sold on them yet because she prefers to monitor her RPMs and select her shift points on her own. She doesn't really care if a computer can do it better or not. She wants to reserve that level of control for herself."
Be sure to read Jack's full blog post over at Overdrive by clicking here and check out the interview below.
[youtube hRBhW3JnYKI nolink]