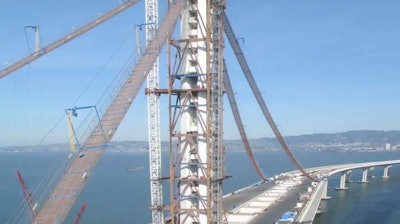 Over the past three-and-a-half years, workers have been busy constructing the new eastern span of the San Francisco-Oakland Bay Bridge. The project has cost more than $6 billion already and was necessary after a part of this part of the bridge collapsed in 1989 after an earthquake.
This new span of the bridge has been built with earthquake-proofing in mind. Components of the bridge include a 525-foot steel tower, steel deck, a concrete pier and steel piles driven (many at particular angles) 300 feet deep into the mud and resting on bedrock, according to the New York Times.
During the construction of this span, the cameras have been constantly rolling and now you can view an amazing time lapse video of it all. The Bay Bridge is expected to last another 150 years before it needs any more restoration and this span is expected to open this summer.
[youtube bKLU40TmKSs nolink]