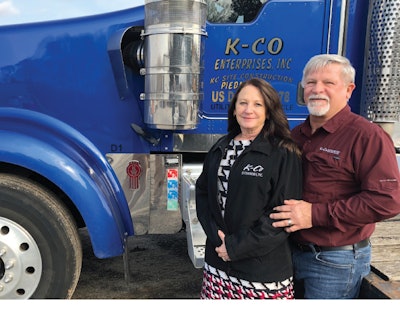 Ken and Kellie Cooley made the perfect match for life – and for business.
Before they met, Kellie had spent most of her career in the communications business, as an employee and a business owner. Ken had worked in the construction side of the industry, building cell towers and other communications infrastructure.
In 2007, they formed K-Co Enterprises in Piedmont, South Carolina. Starting with three workers, the company has grown to an average of 35 employees, serving the communications tower industry throughout the country, as well as other industries that need specialty concrete work.
With Ken's engineering and construction knowledge, and Kellie's business acumen and sales skills, they found their niche, providing services few companies can. They not only construct cell tower foundations, but build the access roads to them and continue to service them after they have been built.
"K-Co is one of the few companies that does most of the work in-house," Kellie says. "We're one of the few full-service, turnkey companies that's still in this industry."
He does construction; she does business
Ken has spent most of his life working in construction. His father was a homebuilder. He worked for him during the summers and went full-time with the company after high school.
His dad wanted him to get a real estate license, and he did. He wasn't happy.
"I'm not a real estate salesman," he says.
He later branched out into running his own homebuilding business, but again, it wasn't for him.
"I really don't like dealing with the general public," he says. He found that he liked commercial construction much better.
He worked for a variety of construction companies and rose through the ranks. Then one day, a neighbor stopped him. He had been offered work erecting a cell tower but didn't know anything about construction. Ken and the neighbor, along with another partner, went into business together. After 15 years, they parted ways, and Ken went off on his own.
Kellie also got her career start while working for her father. He owned a two-way radio shop in Winston-Salem, North Carolina. She earned an accounting degree at High Point University and stayed with her father's business until his retirement. She then managed her brother's tower construction business. In 1992, she started a retail paging services business and evolved with the industry to become a cellular and wireless reseller.
Ken and Kellie met in 2003. They married in 2005 and started K-Co Enterprises in 2007.
"It's a match made in heaven, I tell you," says Ken.
"She knows what she's doing when it comes to business, and I trust her. And she trusts me with construction."
"We both knew a lot of people in the industry," Kellie adds. "As an experienced general contractor, we were able to get approved by a lot of the major carriers and tower owners."
Finding their niche
The company started small and steadily grew. They started as a subcontractor and moved up to being hired directly by national tower companies and mobile-phone carriers.
They carved out their niche in the industry by being able to do all their work in-house. Their specialty is concrete work for footings, tower foundations, utility substations, as well as other areas, such as retaining walls and site access.
"We specialize in so much of what we do," Ken says. "Nobody else does it."
Most of the other contractors hire subcontractors for their work after they win a contract. K-Co is licensed and authorized to work in most of the Southeastern United States. They have worked as far west as New Mexico.
"We get asked to do work all over the country," Ken says. "We're one of the few general contractors that has the manpower and equipment necessary to complete the work on schedule, without relying on subcontractors or rental equipment."
They can handle the toughest jobs, including erecting towers on mountainsides and other sites with difficult access.
"We've done jobs they say couldn't be done," Ken says.
"We've done a lot of hard sites," agrees Kellie.
Kellie says Ken often helps with designing tower compounds and access, drawing on his decades of construction experience. "He works with engineers a lot of the time to try to figure out how we're going to make it work," she says. "They rely on him. It's amazing how much design he actually does."
"You can draw anything," Ken adds, "but making it work is the hard part."
Evan Sowell of Langston Construction, who has worked with Ken for the past 20 years, agrees with that assessment of Ken's abilities.
"There are a lot of professional engineers that can draw it on paper, but it may not work in the field," Sowell says. "And Ken seems to always be able to figure out a solution to a problem."
Staying in-house
K-Co owns all its equipment, worth about $2.5 million. It has a maintenance shop and a mechanic to keep it running. That can be a challenge when it comes to preventive maintenance, as most of the company's equipment and work teams are traveling from job to job.
"We might be on one job for three weeks and then on to another job for three weeks, and all of a sudden it's been out for three months and you need to get it in to get serviced," Ken says.
To help keep up with the maintenance, the company installed software to track its equipment and maintenance schedules. Superintendents in the field can use an app to put in work orders for equipment coming back to the shop for maintenance.
Ken believes owning equipment helps the company stay strong, and he rarely rents. "You get two weeks of rain, and you've got equipment you're paying for sitting in the rain," he says.
The company buys new equipment each year and takes advantage of the bonus depreciation, which is allowed at 100 percent for the first year of purchase under tax legislation passed in 2017.
About three years ago, Ken also decided the company should make its own rebar.
"We were using 800,000 pounds of rebar a year and to me that's a lot of rebar, but to the local manufacturer that wasn't much," he says. Deliveries were often delayed, and there were fabrication errors, making it difficult to remain on schedule.
The venture has gone so well that the rebar shop has become a separate business entity called 4 C's Rebar LLC that also sells to the public. It's also given Ken's son, Devan, an opportunity to get in on a business at the ground floor. Devan oversees the rebar shop, along with serving as a project manager and as a climbing trainer for K-Co.
Family enterprise
Devan is among other relatives Ken and Kellie have brought on board at K-Co.
Ken's oldest son, Jason Ellis, works as a field superintendent. And Kellie's uncle, Ron Prescott, is the safety director.
The Cooleys have now reached a point where they want to spend more time with their eight grandchildren and are looking to the next generation to one day take the reins.
But they're not ready to retire just yet, especially not Ken.
"I love to be out there," he says of working in the field.
He's been trying to loosen the reins and leave day-to-day tasks to the project managers.
"Despite Ken's hands-on approach, recently he's been able to limit the phone calls in the evenings by delegating the construction management responsibilities to the project managers," Kellie says, "and he's been able to turn loose and rely on the experience of the superintendents he has spent a good bit of time training."
It hasn't been an easy transition, Ken says. "But you kind of have to let them grow up."