PasstimeHD has unveiled its new asset tracking device, the Encore GPS tag, which is self-powered and requires no wiring.
It's also 25 percent smaller than a deck of cards and can be placed on construction equipment attachments, such as buckets, forks and hydraulic hammers, as well as on trailers, containers and large tools. It also works on powered assets, such as construction equipment, generators, light towers, work vehicles and trucks.
The company says the tag runs on a lithium battery with five-plus years of life and uses GPS for asset tracking at a cost of about 15 cents a day.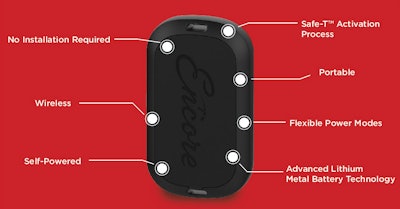 Pushing a button activates the tracker. Flexible power modes can be controlled remotely. It can also be easily hidden on the asset so thieves won't disable it, the company says. That could also lead to a reduction in insurance costs, according to Passtime. "In many cases, the premium reduction alone pays for Encore completely," says vice president of sales Rick Stacy.
Stacy says the company is targeting the Encore to construction and landscape contractors, rental companies, equipment finance companies, government fleets, equipment dealers, and equipment and attachment OEMs. The device can be integrated into current operating systems, he says.
Encore hardware has a one-time cost of $99 and annual data costs of $35 per year, according to the company. The company also offers various hardware and data packages at various costs.