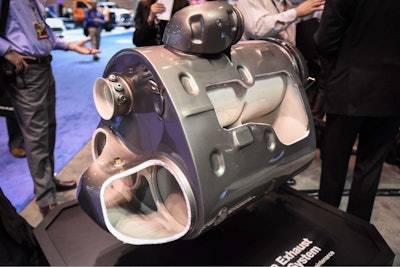 Mack Trucks has launched the ClearTech One exhaust aftertreatment system (EATS), an update to its existing ClearTech solution that cuts 17 pounds from the weight and removes 11 inches of frame space to create easier access for body upfit options.
The new system, announced at the Work Truck Show in Indianapolis, compresses into one unit the diesel particulate filter (DPF), selective catalytic reduction (SCR) technology and the diesel exhaust fluid (DEF) dosing system.
"It's a much more compact and space saving design and is still as efficient as our existing ClearTech technology," says Curtis Dorwart, vocational product manager.
The change allows more space to reconfigure transmission packages and the placement of fuel tanks and battery boxes with the intention of saving as much space as possible to allow for clean body upfitting.
"At the end of the day we don't want our body upfit partners doing a lot of changes on the chassis they don't have to, so we configure the truck in a very clean way so that when it arrives at the body upfitter, mounting the body is that much easier," Dorwart adds. "It also offers flexibility for the addition of pusher axles and things of that nature to satisfy local laws and ordinances. It's a space savings and a weight savings and a very efficient package."
The technology of ClearTech One is similar to its predecessor, but differs in that it uses passive heat to keep the DPF itself warm, in part by allowing the heat to flow on the outside skin of the DPF element.
"We've taken a lot of the flow characteristics that were good in our original ClearTech solution and imported that in to the new ClearTech One solution," Dorwart says.
The original two-part ClearTech system will still be available for specific applications, including cab-over models. ClearTech One will be available for order in August.