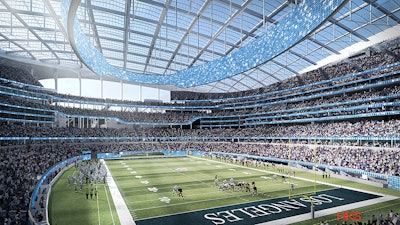 With the National Football League agreeing to allow the St. Louis Rams to move to Los Angeles, the team is bringing a new stadium and thousands of jobs back to its original home, which it left after the 1994 season.
According to the Sporting News, the $2.5 billion stadium will house 70,250 seats and as many as 20,000 club seats. A 50-foot-tall, 120-yards-long, oval-shaped, two-sided ribbon video board dubbed "the Oculus" will be the venue's centerpiece. You can see it near the top of the above photo.
The Los Angeles Times reports the stadium will be built in the city of Inglewood as part of a development referred to as Hollywood Park. The development will also include restaurants, retail and a hotel.
The development is expected to take between six and years to complete and generate 22,000 construction jobs.
It is likely the Rams will share the state-of-the-art facility with another NFL franchise in the future.
As part of the relocation agreement, the league has allowed for another team, most likely the San Diego Chargers, who themselves moved from LA after one season in 1961, to call the new stadium home along with the Rams.