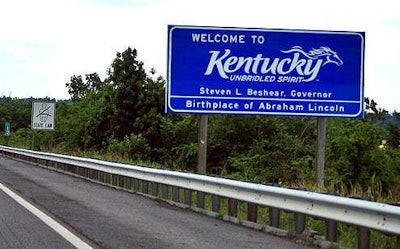 Kentucky might see several road construction projects delayed after the governor ordered a $112.5 million cut – 5.6 percent – in the state's transportation budget.
Gov. Matt Bevin issued the budget reduction order this Monday to offset an expected shortfall in transportation funding revenues, with Bevin saying the reduction will "prevent a deficit in the finances of the Commonwealth."
WDRB reported that upwards of $62 million of the cuts come from a legally required budget-balancing measure and will affect smaller projects that receive funding from a revenue-sharing program.
Another $28 million will be taken from the Kentucky Transportation Cabinet's general highways budget. While some of the projects no longer getting funding weren't high-profile, Denny Nunnelley of the Kentucky Association of Counties said the smaller counties across the state really need those funds.
"They're important," Nunnelley said. "Every dollar's important."
According to WFPL, Transportation Cabinet spokesman Ryan Watts said the department was expecting the budget slash since the state's road fund is expected to bring much less money than was originally anticipated, mostly due to lower gasoline prices.
"We've been bracing for this reduction. We knew we would probably have had less revenue to work with," Watts said.
However, he wasn't sure yet which projects might get the axe.
"It could be full construction projects. It just depends on what phase of the project we can eliminate — a design phase, a right-of-way or a utility phase," Watts said.