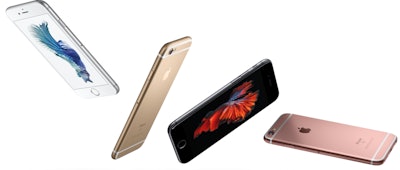 Coming in at No. 1 on our list is the iPhone 6S and 6S Plus. Though Google's Nexus 6P is certainly a better value, Apple's devices offer the best performance, the best app ecosystem, the best camera and the new, very useful 3D Touch feature, in a very well designed package.
Powered by Apple's speedy A9 processor coupled with 2GB of RAM, the iPhones 6S and 6S Plus are extremely powerful devices that have nearly eliminated slowdowns or software jitters. And though camera updates this year were minimal, the 12MP shooters on these phones offer the best image quality of any smartphone.
As far as size goes, the 6S, with its 4.7-inch display is decidedly more pocketable and less bulky than the 6S Plus and its 5.5-inch display. But if you do a lot of reading and photography with your phone, the 6S Plus is probably the better choice with that added display size and the hardware image stabilization not found on the 6S.
Beyond a huge performance upgrade from the iPhone 6 (we're talking at least twice as fast as those phones) the headline feature of the 6S and 6S Plus is 3D Touch, allowing the device's touchscreen to sense how much pressure you're applying with a touch.
The feature makes using the iPhone more efficient, allowing you to preview messages, emails, web links and much more with a light press (a "Peek" as Apple calls it) or bringing that content to the full width of the display with a harder press (a "Pop"). Probably one of the more useful features enabled by 3D Touch is the ability to swipe with pressure from the left edge of the screen to enter the multitasking view. It makes going between apps and tasks a breeze.
And though none of these things will likely convince fans of the Android ecosystem to switch, the fact still remains that many developers still release their apps on iOS first.
Regardless of which phone you choose, any of the phones on this list are likely to serve you well on the jobsite. And if you opt for an iPhone or a non-rugged Android device and are worried about keeping it protected, don't miss our roundup of the 5 best rugged smartphone cases here.