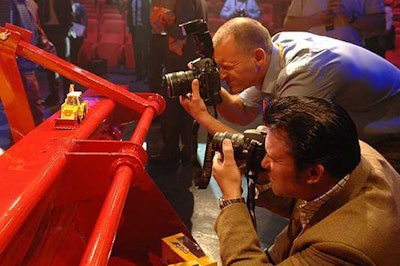 o into a contractor's office and you're more than likely to see at least one. Sometimes it's tucked into a corner of the bookshelf or a desk. Other times, a collection of them will take up a wall or even an entire office.
Got a bout of model mania? Check out these events:
International Model Construction & Truck Show
Sponsored by: Buffalo Road Imports
Custom model and diorama displays; dealer and model manufacturer tabletops, prototypes and new releases, working model area for radio controlled models; hobby and equipment enthusiast clubs and groups.
LOCATION: Clarence Fire Hall, 10355 Main St., Clarence, New York
WEBSITE: Imcats.com
DHS Diecast Open House
Includes live auction on Saturday and open house on Sunday, both beginning at 9 a.m. Diorama and model contests and displays of full-size historical equipment.
LOCATION: 107 Karl St., Berea, Ohio
PHONE: (800) 591-1171
WEBSITE: dhsdiecast.com
Historical Construction Equipment Association's International Convention and Old Equipment Exposition
Held this year in conjunction with the New York Steam Engine Association's Pageant of Steam, exhibits will include model vendors along with displays and demos of antique full size iron.
PHONE: (419) 352-5616; hcea.net
National Toy Truck N' Construction Show
Model trading, showrooms and auction put on by Toy Trucker & Contractor magazine.
LOCATION: Indianapolis Marriott East, 7202 E. 21st St.
WEBSITE: Toytrucker.com
National Farm Toy Show
Although primarily devoted to agricultural models, attendees can also view offerings from construction model vendors. While in Dyersville, a must stop is the National Farm Toy Museum.
LOCATION: Various locations in Dyersville, Iowa
WEBSITE: toyfarmer.com
Modelshow Europe
Focused on cranes, heavy haulers and earthmover models.LOCATION: Plantion Ede, The Netherlands
WEBSITE: modelshow-europe.com
International Watch Fob Association
Free admission and includes models
WEBSITE: watchfob.com
Yet, as much as manufacturers like to give them away and contractors prize them, there are those who claim the world of construction models is an unseen one.
"Models are a niche market almost hidden from the main equipment market," says Chuck Sword, with DHS Diecast Collectables, a construction model dealer in Berea, Ohio. Adds Roy Ferguson, a model dealer in Manchester, Iowa: "A lot of people don't know we exist."
However unnoticed by some, it's a busy world, populated by OEMs, model makers, model dealers and avid collectors.
Is there a typical construction scale model collector?
Not really, beyond the fact that most agree they are definitely skewed male.
"A big percentage of collectors are either employed directly in or are in some way connected to the heavy equipment industry," says Daris Stratton, president of Stratton Systems, which goes to market as b2b Replicas and 3000Toys.com. "Almost all machine operators want a model of the machines they spend their days operating. There's also a fair amount of cross over from model railroaders, and those who collect trucking and agriculture models. And although some will begin collecting in their teens, the most serious collectors are in their 30s or older with more discretionary income."
Collectors will usually focus on collecting a certain scale or type of equipment, such as cranes and trucks or earthmoving. "Every collection is different, depending on what the collector is interested in," says Brandon Lewis with Buffalo Road Imports. "There are still a few out there who try to get everything."
Adds Stratton: "Serious collectors thrive on information. They like to know about upcoming model releases and offer their opinions on what models should be produced. There are also a number of websites and YouTube channels produced by collectors and enthusiasts to discuss and review new models. Some of the collectors will post videos of a model being 'unboxed' for the first time. Social media allows collectors an opportunity to offer praise and criticism on various models, which can yield valuable feedback."
There are even construction model reviewers. Ian Webb, who operates the review site, cranesetc.com.uk, was prompted to start reviewing models because it was "difficult to find out about a model without buying first," he writes. Webb now rates models on their packaging, details, features, quality and price. And he says his website traffic shows interest in models is "not as male dominated as once suspected. In some countries, the interest is equally split between men and women."
The story behind the collection
If there's a collector, there's a story, says Lewis.
Dave Geis in Seward, Nebraska, is one such collector. By day, he runs Geis Steel Tech, which works on pharmaceutical and industrial equipment, but construction equipment has been a fascination since childhood. His interest in construction memorabilia is so strong he's devoted 2,000 square feet of his business to housing his collection, available for viewing by appointment. By his estimate, he has about 1,500 construction models and toys. "If you can't afford to have the real thing," he says, "you can have the model."
Geis says his collection includes every Doepke model made in the 40s and 50s, and the entire collection of Buddy L models, both companies that are no longer in business. "I probably have models from 200 different manufacturers," he says. When asked to pick a favorite, he replies "no way. I'd go down the aisle, and say this is my favorite, and then see another one 2 feet further."
Geis has gathered his collection from a variety of places, including online sites, dealers and other collectors, but one of his main sources has been estate auctions. "There are auctioneers, such as Cornwell Auctioneers in Nebraska, that specialize in construction and farm toys," he says.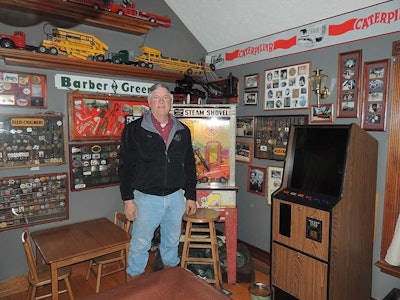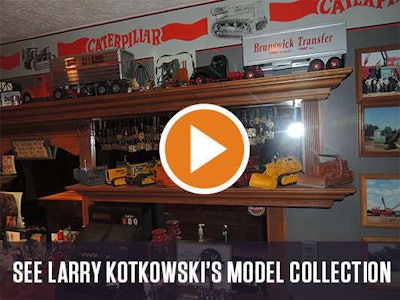 Passionate collector: Larry Kotkowski's collection includes around 800 models, housed in his family room and basement.
Larry Kotkowski's story also has a childhood beginning. Raised in his father's quarry business, he remembers one toy in particular he didn't get "that I wanted … bad," he relates now. As an adult, the president of Lakeside Sand and Gravel, Mantua, Ohio, spotted that Tonka dragline at a flea market. Buying it, according to Kotkowski, "opened the flood gates."
To his own estimation, Kotkowski has around 800 models, "but I haven't really counted them." His collection includes Doepke and Reuhl units, a Cedarapids Pitmaster crushing plant and a Lorain shovel. "I was raised running a shovel, so I have thing for shovels and draglines," he says. He doesn't have to go far when he wants to look over his collection: his family room and basement are chockfull of models. "We have a big family and when my wife and I have guests over, a lot of them appreciate the old toys. The bar in our family room has more bulldozers than booze."
Leon Thompson's model habit started during a Christmas shutdown of his sitework business. "I was bored," he relates, "so my wife told me to check out what was on eBay." He bought 40 models that day, and now has a 3,000-square-foot building housing more than 60 one-of-a-kind large scale models. When we talked in early April, he'd just taken delivery of a 1:3 Freightliner with a truck crane. "I'm pushing the capacity of my building with that model, but I just keep tightening things up," he says with a laugh. He asks each custom model maker for details on making the model, comments that are put on cards that go with each model on display.
Riding the waves of the big iron market
The model industry pivots on the large machine market, riding its cycles. When it the big market dips, so does the number of new introductions, as does the amount of disposable income for a completely discretionary model buy. "The economic downturn significantly affected us," says Chuck Sword with dealer DHS Diecast Collectables. "The whole business is based on licensing and product development and if no one is making anything, there's nothing to sell."
Prior to the Great Recession, the number of models issued in a year rose with the peak buying patterns of big machinery. "There are a lot more models coming into the market than there were in the 1980s," Lewis says. Because people can't buy everything, they're becoming more specialized in their collections, focusing in on a certain scale, OEM brand or equipment type. "The models have become more complex and expensive," Lewis explains, "which also limits purchasing. Sometimes a collector wants to have it anyway."
Collectors are a passionate bunch, as evidenced by the 12-year-old forum on DHS Diecast's website, forum.dhsdiecast.com, which Sword estimates has 15,000 to 20,000 worldwide users. "If you have a model question, someone will answer it," he says. And they'll link their answers to their own websites and Facebook pages.
That passion was recently on display at ConExpo, Sword says. "There were several guys there just to seek out new models and report it on the forum. It's a huge business for us to find out who's got what. Some manufacturers have no idea what's going on."
Ian Webb, model reviewer: Collecting and rating construction models
Editor's note: We asked Ian Webb, creator of the construction model review website Cranes Etc. to go over what he looks for when reviewing models. Here are his comments:
Collectible models are generally made in diecast metal with some plastic parts and can be highly detailed and functional, usually only suitable for adult collectors. The typical scale for construction models is 1:50 although other scales are sometimes produced.
The vast majority of scale model production is in China; however, Conrad of Germany still makes models at its factory near Nuremberg. Among the American companies that develop and market construction scale models are Norscot, Classic Construction Models and Tonkin and they have a particular focus on Caterpillar replicas. Up until 2013, TWH Collectibles produced high quality models but they are no longer in business. In Europe, the big names are NZG, Conrad, WSI and Motorart.
Construction models are typically made in relatively small numbers compared to other scale models and tend to have more moving parts to replicate the features of the real machines. Some models can be quite rare and are valued in the collector market.
Equipment World: How did you get interested in construction models, and why did you feel there was the need for a reviewer?
I grew up in central London and as a boy I was fascinated by the construction machines I saw working on construction projects. I became a civil engineer and worked on a number of major projects including the Channel Tunnel Project. In 2000, I started collecting construction models beginning with a few cranes.
In adding to the collection I had a problem. The models that interested me were not available in shops and it was difficult to find out about a model without buying first. As I was also interested in computing and photography I started the Cranes Etc website in 2004. Its main purpose was to review scale models in a consistent and objective way to allow people to make an informed decision about a model as well as to give a wider showcase to construction and related models.
Since 2004, Cranes Etc has developed significantly. It has worldwide interest with around 1.6 million visitors annually, over 40,000 likes on Facebook, and around 60 million views on YouTube.
Equipment World: What do you look for when you review a model? What really impresses you?
I consider every model against a rating system that reviews the packaging, detail, and features as well as quality and price, and a score out of 100 percent results.
It is nice to see accurate and precise details on a model including small graphics. The best replicas also have high quality model engineering that provides moving parts and thus allows a model to be posed in many different and interesting ways. I also appreciate packaging that includes information about the real machine, and it is a little surprising how many model boxes do not promote the real machine in this manner.
Equipment World: Which model manufacturers do you think do a top notch job?
One of the best model makers was TWH Collectibles but sadly they went out of business in 2013 although some inventory is still available. Among the leading model makers at the moment are NZG, which produces consistently good quality, and Conrad, which has a reputation for robust strong models. Classic Construction Models have a reputation for high quality limited edition replicas and WSI Models are typically highly detailed.
Equipment World: Tell us about a couple of your top rated models, and why you think so highly of them.
One of my recent favourites is a small and relatively inexpensive model. It is the Vögele Super 1803-3 Paver by WSI Models. It has great detailing including many small warning signs, and it has a very high metal content. It also has excellent functionality for a small model with opening engine covers; the steering and paver screed also move.
Another great model is the Manitowoc 4100W Crane by TWH Collectibles. It was made in four versions and was a good replica of this historic crane. In addition to excellent details. it can be built up to more than 8 feet tall by including extension kits.
Equipment World: What is your perception of construction model collectors — for instance, do they tend to be young, old, male, female, in the construction business, etc.?
Model collectors often tend to be people who have established themselves and have disposable income to invest in their hobby. Many people in the equipment business also collect. It is interesting to see from the statistics I get from my internet channels, however. Models are of interest to all age groups and the split is not as male dominated as may be expected. The demographics vary by country, and in some countries the interest is equally split between men and women. One nice aspect of what I do: an 8-year-old autistic boy from the United States, who was fixated on the Cranes Etc. model reviews on YouTube, came to visit me last year. His parents wanted to give him a great day by visiting and he was highly delighted to see the models in person.
To find out more about construction scale models visit www.CranesEtc.co.uk.
Model Mania Part 2: How a construction scale model is made
[imagebrowser id=48]
onfidentiality is a key concern with OEMs, especially when scale models are released the same time as the real machines. Model makers and producers – usually based in China — sign confidentiality agreements, "and we make sure our models are the only ones being produced on a factory floor," Volvo's Mats Bredborg says.
Tom Ristow, vice president of scale models for model maker Norscot, describes the diecast model making process:
Using a CAD file from the OEM, together with machine paint chips and trade dress files, Norscot creates a 1:50 resin prototype using a 3D printer.
The prototype goes through rounds of approvals, both by Norscot and the OEM, and is then released for molds and related tooling. "The prototype review is really important, because after it, there's the point of no return," Ristow says. The reason: model tooling, created by the company's production partners in China, costs $100,000 and up.
Next, Norscot gets a "first shot" from its production partner — an unpainted model that is reviewed for fit and finish.
After various approvals, the factory will then produce a pre-production sample, painted and decaled, and sent to the OEM for design and trade dress review.
During mass production, individual models are pulled out for spot check inspections.
To prevent damage en route, shipping containers usually carry only six models – sometimes two if the model is larger – to prevent damage en route.
Getting to market
Buying and selling models is a global business. "Depending on how the dollar is doing, in some years our overseas sales might be better than our domestic sales," says Chuck Sword with dealer DHS Diecast. The company has a 12,000-square-foot warehouse at its headquarters in Berea, Ohio, devoted to construction and truck models. Like everything else, the Internet has changed the market significantly. "Models used to be hard to find," Sword says. "Now the competition is a lot tougher."
Brandon Lewis, president of construction model dealer Buffalo Road Imports, Clarence, New York also has a physical store, but "we sell models anyway we can get them out there, " he says, including websites and events, such as his own International Model Construction and Truck Show, slated for this June. "Everyone who comes is serious," Lewis says, estimating that he gets a few hundred attendees, including collectors, other dealers and custom model makers. "Some custom model builders only come to our show," Lewis says.
DHS Diecast also has an open house, enticing around 700 people with free hot dogs, diorama and model contests, and displays of full-size historical equipment. To hear Sword tell it, it takes on the nature of a swap meet, especially when it comes to stories. "People will come up to me and say "I bought my first model from you 15 years ago," he recounts.
In 2013, one DHS Diecast open house attendee brought a fully operational 1:16 Manitowoc model; another — an 8-year-old boy – showed off a Roadtec Shuttle Buggy he'd made out of cardboard. "They come from all walks of life," Sword says. "The only thing they have in common is a love of models. You'll get rich collectors and guys who are scraping together every dollar to buy."
Both Lewis and Sword also manufacture models. Lewis specializes in event pieces and vintage equipment, while Sword manufactures what used to be hard-to-find 1:50 scale over-the-road trucks, including Mack, Kenworth and Freightliner models. Since most truck models are produced at 1:64 scale, "we got into it because it was hard to find a truck that could haul a 1:50 construction model," Sword says.
And like their large cousins, models reflect the global nature of equipment; when Buffalo Road Imports produced a Terex Titan mining truck model, it used parts coming from China, Korea and Russia.
Part 3: How big-iron equipment manufacturers use scale models to promote their brands
To an manufacturer, the primary purpose of a model is to promote the brand.
"Models are great exposure to fans of Caterpillar," says Sara Hays with Cat's merchandising group. The company uses them for awards, customer gifts, machine promotions, and saying thank you to the design team involved in producing the big iron. Hays works with Caterpillar product groups and its model licensees — Norscot, Tonkin and Classic Construction Models — to come up with the list of which machines will get models.
"There's nothing better to promote the business than a model," adds Scott Stern, president of Norscot, which has been making Caterpillar models for 44 years.
Jim Ryberg, Bobcat aftermarket product manager calls models a reminder of all of the machines the company carries. "Dealers like them, customers ask for them, and people buy them even if they don't have equipment. The thinking is if a kid owns a little one, he may want to own a big one when he grows up."
That's a sentiment echoed by David Althaus, manager of events and promotions for John Deere, and the father of four: "I see models serving a lot of different needs, and one of the most important is to keep kids interested in construction."
Sometimes, it's a model's absence that's felt. "When the recession hit, no one thought of scale models," says Mats Bredborg, director of global brand management, Volvo Construction Equipment, "but three years ago our dealers told us loud and clear it was important to get our scale models up to date. The latest models are the ones that help the buying conversation."
JCB licenses its brand to six model makers: TOMY, Joal, Siku, Motorart, Universal Hobbies and NZG. "We like to have different scales and levels of details," says Sam Johnson, senior licensing manager. It uses TOMY for entry point models, designed to appeal to beginning collectors. On the other end, Germany-based NZG produces 1:50 scale detailed models. "For us," Johnson says, "it's a great way to reflect the breadth and diversity of our line. It also shows the key selling points of the machines."
JCB actively courts collectors, a rarity among OEMs. Last September, when it launched a vintage diecast of its 1977 JCB 3C Mark III backhoe, it hosted a press event to "our most keen collectors and the diecast press. It was a great success." JCB relies on its collector contacts, seeking advice on future models. It also showcases 150 models at The Story of JCB museum at its headquarters in Rocester, United Kingdom.
Models can also be part of company milestone celebrations:
To celebrate Bobcat's 50th anniversary in 2008, the company issued six gold-colored models depicting six significant evolutions of the skid steer.
This year, Volvo Construction Equipment released a model of its first loader, the H-10, in a specially designed wooden box, to celebrate its 60th year of making wheel loaders.
And this summer JCB is issuing a special edition JS220 tracked excavator model, celebrating last summer's millionth machine milestone.
While special editions get a lot of attention – and are collector's favorites because of their limited runs – Norscot's Tom Ristow says the more typical models do a better job of extending a company's brand. "We're a better steward of Cat's brand with those models, and not just creating a couple of cool things for a couple of cool people."
Careful choreography
The timing of a model requires careful choreography. "It takes at least 12 months from the time we decide to do a model on a machine until we get the finished product," Althaus says. "There can be some real challenges in getting the final sheet metal on a new product reflected in the model," including Tier 4-related tweaks that changed engine hood and exhaust designs.
"Sometimes the lead time for models is extremely long," says dealer Roy Ferguson. "Other times the model is ready, but OEMs put a hold on it because the real machine isn't ready."
Adding to the complication, there seems to be an increased emphasis on timing the release of a model alongside its big iron brother, certainly true at this year's ConExpo. For the first time, Volvo Construction Equipment introduced several models with real machines at the show, including one for the A40G articulated truck. "If you get the scale model at the same time as the machine introduction, the impact is fantastic," says Bredborg. "It doesn't have the same marketing impact if it comes three months later." Timing was also a factor when Bobcat produced the special-edition model for it's 1 millionth loader promotion: it kept it under wraps until the real iron was unveiled at the show.
Long relationships
No relationship with a U.S.-based company and current model maker goes back as far as the Ertl brand and John Deere. In 1945, working out of his basement, Fred Ertl started to cast a number of sand-cast molds, including the John Deere Model A tractor. A few years later, the relationship between the Ertl family and Deere grew, and Ertl moved to Dyersville, Iowa in 1959. When Deere branched out into construction equipment, Ertl started making the models to match. The company, now owned by Japan-based TOMY, still has its off-road division in Dyersville, says Bill Walters, vice president. Ertl also makes models for Case, New Holland and Link-Belt.
Norscot started making models for Caterpillar in 1970 and until recently was the sole model producer for the brand. "Our single largest channel is to Cat dealers," Norscot's Scott Stern says.
While many model manufacturers mass produce units, Classic Construction Models specializes in limited production runs of big iron replicas. A division of winch maker Allied Power Products, Classic started when Allied Power president Bob Peterson wanted to help a customer get a model of a 4100 Manitowoc lattice boom crane. Not pleased with the quality of models currently on the market, he decided to commission his own, ordering 300 brass models. The plan was to give one to his customer, sell the rest at $800 a piece, and end his venture in model making. "But the customers who bought that one asked him what was next," relates Bob's brother Gary Peterson.
"We've found that for our customers bigger is better," adds Peterson. "We tried a skid steer model once, but it was not what our customers wanted." But a Cat 390 excavator? "It sailed out the door."
Models can cost in the $30 range for the more mainstream units up to thousands. For example, Classic Construction Models' highest priced unit to date was a Marion 6360 shovel that went for $6,295. What elevates a more typical model to one that would bring this kind of money? Detail. The Marion shovel, for example, had a fully detailed operator's cab, moveable track rollers, idlers and crawlers and operable gantry service crane.
In addition to the major diecast makers and specialty model producers, there are a number of custom model creators, who specialize in made-to-order and one-of-a-kind units. Some of these can get quite large, such as the 1:3 model of a Cat D11, one of several large size models owned by Leon Thompson with Thompson's Grading, Virginia Beach, Virginia (more on Leon in part 1).