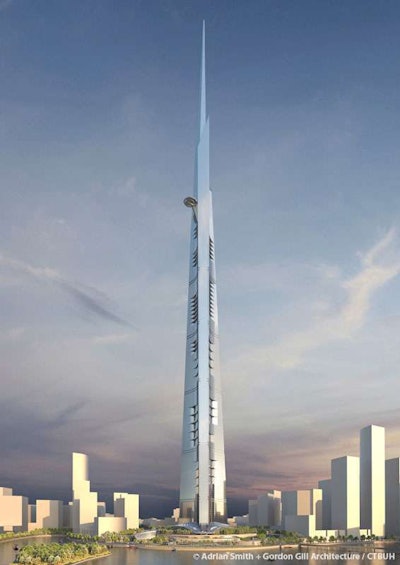 Move over Sky City. You too, Burj Khalifa.
Construction on what will be the tallest building in the world is set to begin April 27, according to a report from BD Online. Kingdom Tower in Saudi Arabia was conceived in the early 2000s and has seen several delays and design changes.
In 2011, it was reported that the building would reach a mile high. But after designers rejected that proposal, the building will now stand at 3,280 feet—563 feet taller than the current tallest building, the Burj Khalifa in Dubai.
The $1.2 billion project is expected to take five years, three months to complete and will be built by UK firms EC Harris and Mace.
Sky City, a tower currently under construction in Changsha, China, will actually take the title of world's tallest building first when it is completed later this year. But its reign will be short-lived. At 2,750 feet tall, Sky City will be easily outstretched by 530 feet when Kingdom Tower is complete.
And in terms of our the U.S.'s own supertall building compares, the Kingdom Tower absolutely dwarves 1 World Trade Center. At 1,776 feet tall, 1 WTC is just more than half as tall as the Saudi Arabian tower.