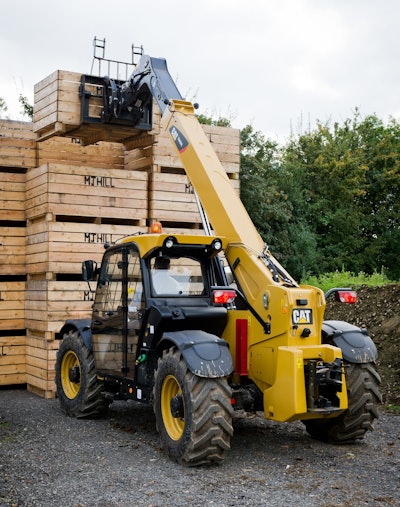 What and how much do you need to lift?
Telehandlers have gone far beyond their original masonry pallet roots, and can lift, move framing, be used as a work platform, and even do some light earthmoving/loose material handling. "Customers are trending toward bigger machines and lift capacity and height requirements are growing," says Wayne Goodall with Caterpillar. Rented telehandler lift capacities at maximum height range from around 3,000 pounds up to 29,000 pounds. Higher capacity machines typically have outriggers that can be used to increase capacity.
Maximum lift heights typically range from 13 feet to 59 feet. Maximum lift heights don't always rise with higher lift capacities, since some machines are designed for heavier lifts at lower heights. "Your rental dealer should also ask you questions about machine height restrictions to assure the machine can negotiate the work site and move through doors and ramps as needed," says Kiskunas.