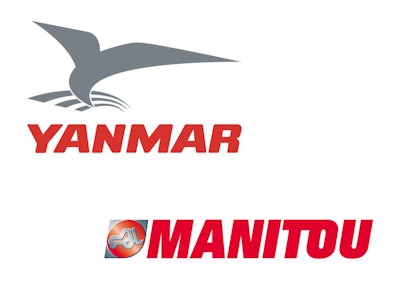 Yanmar announced today it has acquired 6.26 percent of the capital and voting rights of Manitou BF, strengthening a 25-year engine alliance and a North American agreement announced this past January.
"It is becoming more necessary for each player to have a wide range of product line-up in today's construction market," said Takehito Yamaoka, Yanmar president, who added that he believed the alliance "will let the two companies become more attractive and help us to find more chances to see new customers."
At the ICUEE trade show this month, Yanmar unveiled one of the products of the companies' North American partnership, the S220R-1 skid steer.
Under the agreement, Yanmar will launch skid steers and compact track loaders designed and manufactured in the United States by Manitou's Compact Equipment Division. In turn, Manitou will launch a line of compact excavators manufactured by Yanmar but sporting the Gehl and Mustang brands.
The two companies says they will seek other "development opportunities while working to reinforce their independent dealer networks." In addition, the two are cooperating on developing distribution networks for the Yanmar-produced Gehl and Mustang branded excavators in Mexico, Central America and Latin America.