We're only a month away from the annual World of Concrete expo in Las Vegas, running from February 4 through 8. The international event will feature demonstrations, seminars as well as indoor and outdoor exhibits. For more information on these exhibitors, go to worldofconcrete.com or download the app, available on the site.

MULTI-TOOL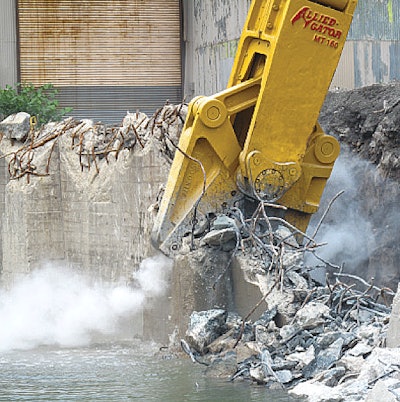 Outfitted with Allied-Gator's Quick-Change MT Cracker/Crusher Jaw Set, the MT Series Multi-Tool makes for a powerful demolition combination that processes concrete, heavy cast and rail materials. The 90-degree jaw opening of the jaw set holds more material and enables the the Multi-Tool to demolish objects that are much larger than the actual jaw opening, such as concrete piers, foundations and building corners. The Cracker/Crusher Jaw Set features disposable wear components and interchangeable bolt-on tooth segments can be changed in less than five minutes allowing the operator to control and regulate material size with several tooth configurations. Cracker tooth segments penetrate heavily reinforced concrete and dense rock, and safely process cast materials. Crusher tooth segments efficiently de-rod and pulverize concrete in one bite, allowing contractors to demolish and process materials simultaneously. Finish tooth segments send a clean, flat and controlled crack through curbs and walls, reducing costly and time-consuming precision work like facing and edging. Finally, MT Rail Breaker tooth segments process rail and, as an added benefit, cleanly remove any concrete or asphalt that may be bonded to the rail. The Multi-Tool is available in sizes from 800-52,000 pounds. Text INFO to 205-289-3715 or visit www.eqwinfo.com.

EXCAVISION

Ocala Instruments' ExcaVision fits on any excavator or backhoe and eliminates the need or a helper to measure the depth of excavation. The operator can monitor the depth, slope, and width of the work without others working around deep holes. The system installs in less than one hour and a basic version can be purchased and then upgraded later with either Ocala's GPS option or your own existing GPS rover. Text INFO to 205-289-3715 or visit www.eqwinfo.com.

CONCRETE CLAW

Remove concrete from your site with the FFC Concrete Claw. Measuring 24 inches wide and weighing 575 pounds, this claw attaches to skid steers, compact track loaders and wheel loaders. It features a low profile and low mounting height allowing material transfer while boom/loader arm supports are in use. The claw also features replaceable teeth with 1.5-inch wide shanks made from T-1 steel.
Text INFO to 205-289-3715 or visit www.eqwinfo.com.

PORTABLE REBAR PACKAGE

Fascut's Model FS-600 cuts and bends through No. 6 (3/4-inch diameter) rebar. The portable machine plugs into a standard 110-volt outlet and features carrying handles for easy transport between the site and shop. The machine is capable of fabricating stirrups, hooks, 3-D bends and cutting bars to length.
Text INFO to 205-289-3715 or visit www.eqwinfo.com.
ULTRA-COMPACT ENGINES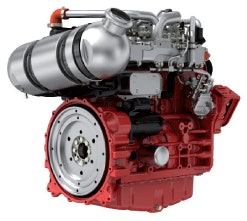 Deutz's ultra-compact 2.9 and 3.6 Series engines are Tier 4-ready and range from 30 to 120 horsepower. These engines feature the company's DVERT Diesel Oxidation Catalyst to eliminate downtime due to forced regeneration. The 2.9 and 3.6 series engines also offer flexibility with optional turbocharger and charge air coolers.
Text INFO to 205-289-3715 or visit www.eqwinfo.com.
PRIME AIRE PUMPS

Gorman-Rupp's Prime Aire Plus line of vacuum assisted pumps features models with sizes from 3 inches through 8 inches suitable for pumping both clear liquids and those containing large solids. With both Tier 4 Interim engine and electric motor models available, Prime Aire Plus pumps use the same venturi/compressor priming system as Gorman-Rupp's Prime Aire line. These pumps also feature externally adjustable running clearances, integral seal oil chamber, fuel level monitoring system, iron body and iron impeller.
Text INFO to 205-289-3715 or visit www.eqwinfo.com.
EASI-POUR
OverBuilt Paving & Mining's Easi-Pour Compact 880 is a high speed machine for all curb and gutter configurations. It's capable of monolithic style paving up to 7 feet wide, flat paving up to 8 feet wide, barrier walls to 42 inches high, paving speeds up to 65 feet per minute and transport speeds of 170 feet per minute. All Easi-Pour Compact 880's come equipped with your choice of a Cummins or John Deere 115-horsepower engine. OverBuilt-designed and manufactured sensors and cords, steering and elevation wands come standard along with four vibrator circuits, three vibrators, 1 3/4-cubic-yard-capacity hopper with auger, 51-inch fine grade trimmer, and a mold of your specifications. OverBuilt Paving & Mining also offers the Compact 880 with choice of rubber wheel or track configurations.
Text INFO to 205-289-3715 or visit www.eqwinfo.com.
CHAIN-DRIVEN OHC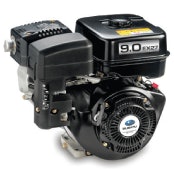 Subaru's EX Series features seven engines with power ranges from 4.3 to 14 horsepower that use chain-driven overhead cam (OHC) technology. Chain-driven OHC allows the intake and exhaust valves to be positioned in order to lower resistance for the mixture and flow of air and fuel. An automatic decompression system reduces the required recoil pulling force by 30 to 40 percent, meaning easier engine starts and with fewer moving parts and less noise. EX Series engines include the EX13, EX17, EX21, EX27, EX30, EX35 and EX40 models, which produce 4.3-, 5.7-, 7-, 9-, 9.5-, 12- and 14-horsepower respectively.
Text INFO to 205-289-3715 or visit www.eqwinfo.com.
PROPANE-POWERED POLISHER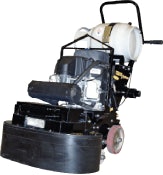 Equipment Development Company's (EDCO) Dual-Disc ProPolisher II propane-powered polisher machine polishes residential and smaller commercial concrete floors without using electrical cords. With an operating weight of 370 pounds, it has a polishing production of 900 square feet per hour. The polisher features a 16-horsepower Kawasaki motor with muffler, magnetic accessory housing, Quick-Change accessory system, removable weights and multi-vac port hookup.
Text INFO to 205-289-3715 or visit www.eqwinfo.com.
RAMMER HAMMER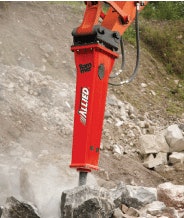 For use in the demolition of concrete structures, building foundations, trench rock and oversize rock, Allied's Rammer Model 1533 mid-range hammer features a vibration-dampened tie rod system (VIDAT) and a slim, sound-supressed housing design that offers the operator greater visibility and accessibility. The Model 1533 breaks at a rate of 550 to 1,050 blows per minute and can be used with more than 2,500 customized hydrualic kits offered by Allied.
Text INFO to 205-289-3715 or visit www.eqwinfo.com.
SAFE COUPLER
JRB's PowerLatch multi-pin-grabber coupler has several safety features including an Automatic Blocking System (ABS), which ensures coupler engagement is maintained during hydraulic failure. The coupler is designed to work with a wide variety of buckets and attachments and features backup mechanical locks on both the front and rear attachment pins that are independent of the machine's hydraulic locking and operating system. Attachments can only be removed by the operator when they are in a safe, curled position, which prevents accidental release of an attachment.
Text INFO to 205-289-3715 or visit www.eqwinfo.com.
CORDLESS REBAR CUTTER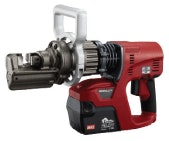 MAX USA's PJRC160 cordless rebar cutting tool is powered by a 25.2-volt lithium ion battery and allows the user to cut up to no. 5 rebar cordlessly. The PJRC160 maeks 176 no. 5 Grade 70 cuts per charge and has a 360-degree rotating head. The tool weighs 16.8 pounds and takes 3.3 seconds to make a cut. The tool's reversible cutting blades perform 5,000 cuts per side.
Text INFO to 205-289-3715 or visit www.eqwinfo.com.
DON'T GET STUCK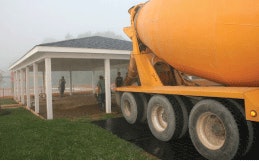 AlturnaMats ground cover mats are designed to keep equipment and vehicles up to 60 tons from getting stuck in wet, muddy, sandy and snowy ground conditions. The durable ground cover mats are made from 1/2-inch thick recylced plastic and feature a diamond-cleat tread design on both sides for traction. The mats can be linked together and can be cleaned by simply hosing them down. The mats are are available in black or white in sizes from 2-by-4 feet to 4-by-8 feet.
Text INFO to 205-289-3715 or visit www.eqwinfo.com.
MOBILE BATCH PLANT

RexCon's Mobile 5 Batch Plant is the company's newest portable transit mix plant and is ideal for remote jobsites. The Mobile 5 is a single-trailer configuration, which can easily be set up with a front end loader, no crane required. The Mobile 5 features a 225-barrel storage silo with a gravity-feed cement surge hopper. A low-profile, three-compartment aggregate bin enables direct ramping for material loading and has more than 16 cubic yards (25 tons) of storage capacity. Load cells on all batchers provide precise measurement of materials and digital readouts and manual controls with electronic pushbuttons are included. RexCon RC3 computer controls are available as an option. The Mobile 5 is also available with a 6 cubic yard central mix option.
Text INFO to 205-289-3715 or visit www.eqwinfo.com.
GEAR REDUCTION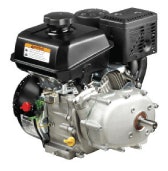 Kohler Engines has introduced gear reductions options, some including a clutch, on select models of the 7, 9.5, and 14 horsepower Command PRO Horizontal engines. The new engines are powerful options with reduced revolutions per minute speed while increasing torque. The new options will be available in the first quarter of 2013 on Kohler's 7-horsepower CH270, 9.5-horsepower CH395 and 14-horsepower CH440.
Text INFO to 205-289-3715 or visit www.eqwinfo.com.
NOFIBER FILTERS

Baldwin Filters Extreme Performance air filters feature the company's ProTura nanofiber technlogy and fit agricultural, mining and construction applications. Baldwin's nonfiber technology uses ultra-fine fibers bonded to cellulose media to remove submicron contaminants from the air in dusty conditions. As air passes through the filter, the contaminents stick to the cellulose surface before falling to the bottom of the housing where they are removed by the dust injector.
Text INFO to 205-289-3715 or visit www.eqwinfo.com.
DEMOLITION BOT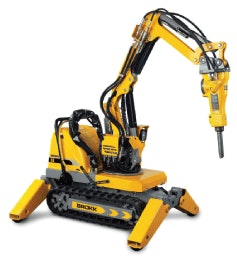 The Brokk 50 is Brokk's smallest demolition robot, able to pass through 2-foot-wide openings and work in confined spaces of 30 square feet. The robot can be used in most buildings, including those with weak floors, and with a weight of 1,102 pounds, it can be transported in a standard passenger elevator. Brokk says the robot is up to six times more efficient than hand-operated construction tools and comes equipped with an Atlas Copco SB52 breaker. The robot can be equipped with a crusher, grapple, and other attachments up to 154 pounds.
Text INFO to 205-289-3715 or visit www.eqwinfo.com.
ZERO TAIL SWING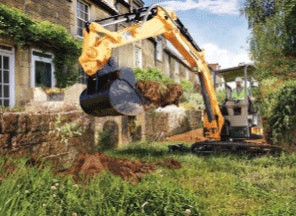 Yanmar's Vi035-6 zero tail swing excavator uses 20 percent less fuel but boasts the same digging and lifting power as previous models thanks to a new Tier 4 engine and evolved hydraulic system. The Vi035-6 also features ECO and auto-deceleration modes to tailor power to the application as well as advanced operation control and a hydraulic quick-coupler system.
Text INFO to 205-289-3715 or visit www.eqwinfo.com.
PINPOINT PRECISION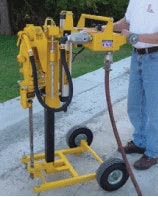 E-Z Drill's Model 20 UTL allows utility companies to pinpoint the site of a gas leak without the need of tearing out a significant stetch of roadway. The Model 20 UTL is used to drill through the road surface in periodic intervals, narrowing the potential leak area to a stretch between holes that can simply be repaired, rather than destroy a whole section of road. E-Z Drill says that while the Model 20 UTL is built for the gas industry, it can handle just about any type of vertical drilling application.
Text INFO to 205-289-3715 or visit www.eqwinfo.com.