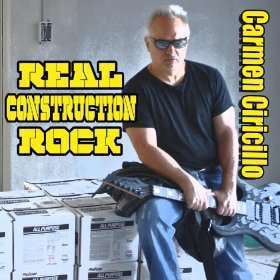 When a contractor tells me "you've got listen to this," well, I do. Alisa Bennett, of Bennett Contracting, one of our 2012 Contractor of the Year finalists, is talking about Carmen Ciricillo's newest venture.
Ciricillo — who has transformed a passion for construction into a comedy routine and a contractor seminar service — now has added one more trade: construction rocker.
Ciricillo, who does regular gigs throughout the year as "The Construction Comic," has just released "Real Construction Rock," which taps a vein of construction experience he estimates "started in the 5th grade." Working in his uncle's homebuilding business, he eventually decided "my heart was in entertainment." He also takes the entertainment route when leading his Florida licensed contractor seminars. "I've learned how to get people's attention," he says. I don't want my courses to be boring."
Ciricillo's album takes a mostly tongue-in-cheek approach to a broad construction spectrum, from heavy equipment to framers and electricians. "I wanted to mix it up a bit, do something completely different," he says.
In the spirit of the holidays, he's offering a free download, Santa's Checking Permits.