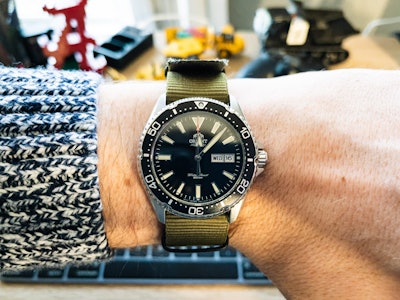 Though most of us are now walking around with tiny screens on our wrist where traditional watches used to sit, a good, stainless steel mechanical watch is still a wonderful thing to have.
Last year I finally grew tired of my wrist constantly buzzing and the worry of yet another screen vulnerable to breaking, and so I finally decided to give up my Apple Watch and switch to a mechanical watch. Over time, I slowly realized that all the things I liked about the Apple Watch were things a good mechanical watch could do, but without the annoyance of notifications.
The thing about the Apple Watch is that it is a nice watch and I didn't want to give up that aspect. So I decided to go with an affordable mechanical watch—a watch with a real movement made up of plates and wheels and gears and springs, as opposed to watches which use quartz movements. And that brought me to the Orient Kamasu.
Orient is a Japanese watch brand that is within the Seiko family of companies. And while Seiko owns the brand, apparently, the two interact very little apart from sharing some movement componentry. All of that to say, the Orient is a great watch made by a brand with a long history of its own inside another very popular watch brand.
Plus, the cool thing about the Kamasu is that it—along with the great Seiko 5 watches—is widely acknowledged as an incredible value. For around $250 (depending on where you buy it) you're getting a beautiful diving watch that is not only rated to 656 feet of water resistance but is also made of stainless steel with a ridiculously scratch and crack resistant sapphire crystal face. This thing is a tank that you won't have to worry about on the jobsite, but that you'll also be able to wear on a night out.
The sapphire face is one thing most watches in this price range don't have. But another is a movement this good. It's accurate to within ±15 seconds. (In other words, if you set your watch to a source you know to be always accurate—like your phone—by the end of the day this movement should be no more than 15 seconds fast or 15 seconds slow. That's really good for a mechanical watch of this price.)
The thing is, the Kamasu is a thing I own and admire. The only time I notice it is when the glint of it catches my eye or I need to check the time. But a year into owning it, I still think it looks great and I'm still amazed at the complexity going on just under that face.
I got mine off Amazon, but you can find the Orient Kamasu at a lot of great online watch retailers.