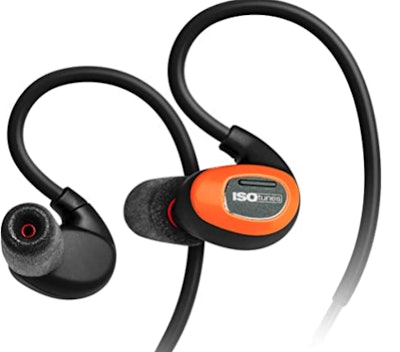 We get it. Those white wireless ear pods are cool but you can lose them in hurry. And who wants to search for a tiny expensive ear piece in 2 inches of jobsite mud?
Which is the reason these ISOtunes PRO bluetooth earplug headphones offer a great alternative. They conform to your ear, expanding like ear plugs, so you can block the ambient noise and concentrate on that client call. A noise suppressing microphone with echo cancellation technology helps block steady noises such as engines.
What's more, with a 27-decibel Noise Reduction Rating, the headphones are ANSI-certified and OSHA compliant to provide hearing protection. Custom-fit memory wires fold behind your ears and hold the ear tips firmly in place.
You can also step up to 30 feet away from your device, ensuring privacy when it's required. The 10-hour battery life and 240-hour standby time ensures uptime throughout the day.
Everything is sweat and water resistant; the unit comes with four pairs of foam ear tips and a pair of silicone triple-flange ear tips.
Priced at $69.99 on Amazon.