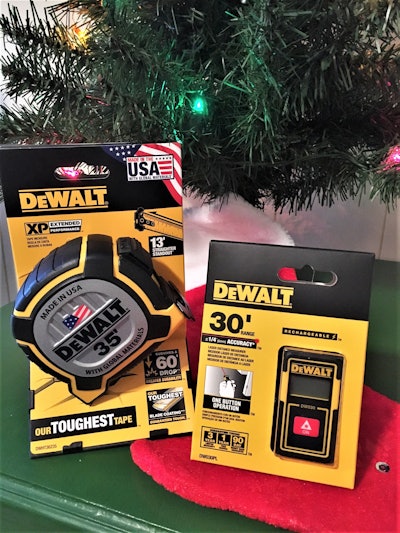 Half of all construction is measuring things. So why not get the construction worker in your life an additional tool, or two, for the task. They're perfect stocking stuffers, and it is literally impossible to have too many tape measures.
DeWalt has come out with two innovations in this regard. The 35-foot tape measure has 13 feet of standout. The tape itself is 1 ¼ inches wide with a thermoplastic coating to resist scratches and wear and a jumbo-sized hook for snagging the ends of anything you're stretching it over. It's quite a handful and won't fit in a traditional tape measure pouch, but DeWalt conveniently included a lanyard hook at the back.
On the other end of the size scale, DeWalt unveiled a laser range finder that's no bigger than today's car and truck key fobs. It measures 1 ¼-inches wide and 2 ½ inches long and measures up to 30 feet with an accuracy of plus/minus ¼ inch. You can set it to measure in feet, inches or meters. It comes with a lanyard and a USB cable for recharging—no batteries needed.
The tape measure retails for about $35. The laser range finder sells for $20.