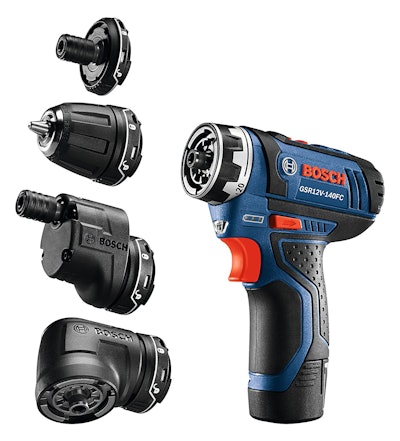 Bosch model GSR12V-140FCB22 is a drill that combines quality and gadgetry into one extremely adaptable tool.
The FlexiClick 5-in-1, as Bosch calls it, not only fits into tight spaces with its compact, 7 inches tall by 5 inches wide footprint, it also comes with five easy to connect attachments that allow the drill to adapt to any challenges the job environment may present.
The 2-pound drill delivers 265 in. lbs. of torque to the following four attachments: a locking bit holder, a keyless chuck, an offset angle and a right angle. Bosch says the right angle allows the drill to work in tight spaces. Each of the other three attachments clicks into the right angle to allow their use in tight spaces as well. The offset angle attachment is designed for precise screwdriving close to edges, Bosch says.
The set currently runs around $170 on Amazon and comes with the drill, attachments, a 12-volt battery, quick charger and carrying case.