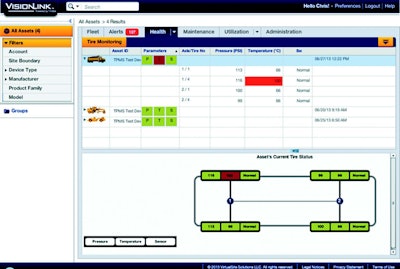 Reduce your fleet's maintenance costs with Trimble's TirePulse Monitoring System, which provides real-time pressure and high-temperature alerts via Trimble's VisionLink.
Part of the company's Connected Site line, TirePulse assists fleet managers and site supervisors in scheduling preventive tire maintenance, extending the life of the tires and increasing fuel efficiency while reducing the possibility of overheating and blowouts.
Using the TP920 industrial tire sensor and SNM940 Connected Site Gateway, information is relayed wirelessly. Email alerts notify the fleet manager in the event of a 20-percent pressure drop or high temperatures.
Safer and more accurate than manual visual inspection, the system does not require personnel to be close to an overheated tire to check the temperature. The system can be installed across an entire fleet of on-and off-road machine tires regardless of manufacturer.