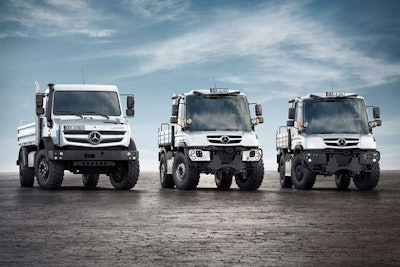 A couple months back we found out about a 1955 Mercedes-Benz Unimog that was for sale and told you a little bit about the place in the construction industry's history this powerful truck holds. Now, let us tell you about the most recent update to the world-famous truck that, somehow, makes it even more powerful.
As you can see from the photo above, Mercedes-Benz has introduced a whole new exterior design for the Unimog series with a bolder grill that retains the look of the original and prominently displays the automaker's logo. You'll notice too that the glass on the front is a little taller too as part of the Unimog's redesigned panoramic cab.
There are actually 10 different models of Unimog now and all of them feature the redesigned cab, a higher ground clearance and a nifty tire inflation system that allows you to adjust tire pressure based on the terrain.
The Unimog is also more efficient now thanks to new BlueEfficiency power engines. The trucks also feature updated power hydraulics and a synergetic traction drive that allowed MB to transition the Unimog from a manual transmission to hydrostatic.
Of course, when it comes to availability, it's hard for us here in the States to pick one of these bad boys up. Pricing hasn't yet been announced for the 2014 models, but even if you're determined enough to import one, the price is likely prohibitively high. That's why you're probably better off picking up an older model. Looks like that 1955 model is still for sale.