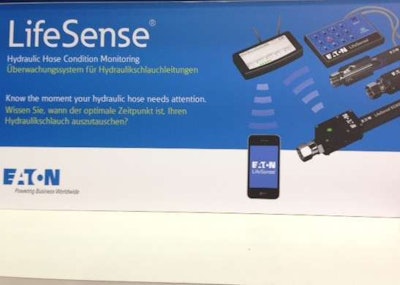 Eaton's LifeSense hydraulic hose monitoring system is now available in a wireless version, displayed this week at Bauma in Munich, Germany.
LifeSense, which has been available in a wired version since 2011, uses a sensor to monitor the life of individual hydraulic hoses. Each sensor sends electronic signals that are run against a hose diagnostic unit, detecting failure-related events within a hose.
With this wireless method, instead of replacing all hoses on a machine at a prescribed service interval—and perhaps losing hose life—each hose can be monitored and replaced when it is truly at the end of its life.
A system that would connect this information with a machine's telematics system is a future consideration, Eaton says.
The wireless system can measure up to 100 hoses, and transmits data once every seven hours. Users can access this information on a computer or smart phone.
The LifeSense system is the result of a research partnership with Purdue University Eaton initiated to address hydraulic hose failures.