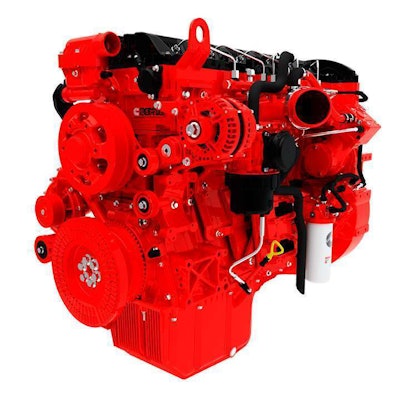 Cummins took the wraps off its QSM 12 engine, Tier 4 Final version, at Bauma yesterday. The six cylinder powerplant uses higher efficiency air handling and advanced combustion technology to reduce emissions sufficient to do away with cooled EGR.
Eliminating the EGR makes this engine up to 40 percent cooler running and allowed Cummins to outfit the engine with a wastegate turbocharger.
The QSM 12 borrows a downscaled version of the company's ultra high pressure fuel system from the larger QSX15 engine and uses a DPF and SCR to clean up the remaining emissions.
Ratings for the QSM 12 run from 335 to 512 horsepower.
Cummins employed weight savings strategies on the QSM 12, including the use of composite oil pans and valve covers, to boost the power to weight ratio of the engines. The engine envelope size was also reduced to the size of its QSM 11 predecessor.