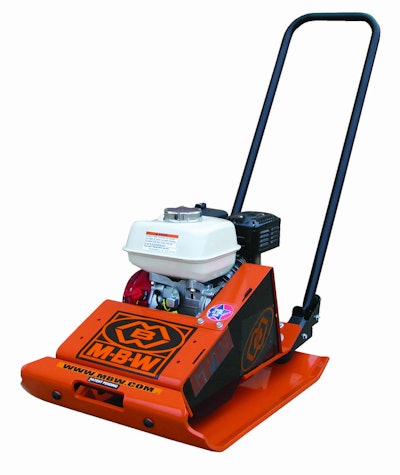 Handle a range of small and medium soil compaction jobs with MBW's GPX vibratory plate series, useful for granular soils in confined areas.
Featuring three models—the GP12, GP15 and GP18—the series delivers amplitudes up to .057 inches, centrifugal force up to 2,070 pound-feet and travel speeds of up to 75 feet per minute, and is capable of achieving 10-inch lift depths. The vibratory plates are available with the Honda GX120, Subaru Robin EX13 or Briggs 550 engine.
These economical vibratory plates have a suspension system that places shock mounts in a predominantly shear mode at the high amplitude front end of the plate, and a predominantly compressive mode at the low amplitude trailing end of the plate, reducing hand-arm vibration.
A one-piece exciter has a self-cleaning open base plate design. The plates range in weight from 129 to 143 pounds and are easy to lift and maneuver around the jobsite.
Options include a lift cage, transport wheel kit and neoprene paving pad.