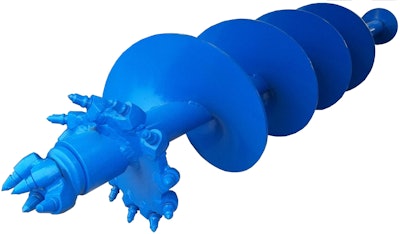 Terex has introduced its Texoma Spiral Bullet Tooth Auger for digger derricks; this auger is designed to be used in nearly any ground condition.
The auger features a cutting pattern designed to allow each tooth–including the inside teeth–to cut a small track. The cutting pattern and attack angle are intended to penetrate through and lift up fractured or broken material.
The Terex Texoma Spiral Bullet Tooth Auger comes with all of the standard Terex tooth offerings and can be used with any size of digger derrick truck. Flighting thickness and pitch options are available, as well as custom specifications on all auger tooling.