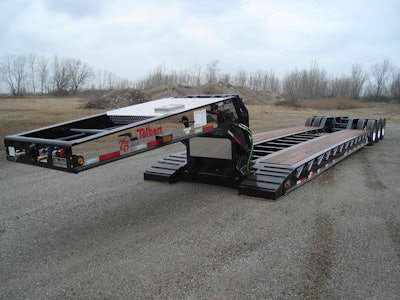 Accommodate superloads with the 40-ton lightweight trailer from Talbert Manufacturing, designed for use in states with 120,000-pound gross vehicle weight rating restrictions. Weighing just over 18,000 pounds, the trailer can handle excavators and mid-size dozers while remaining under the superload limit.
The three-axle 26-foot trailer has a four-beam deck design and auxiliary crossmembers that provide extra floor support. Using 16-inch beams consisting of T-1 flanges and 80K webs paired with lightweight Walther EMC Dura-Light Hubs and CentriFuse brake drums enables Talbert to reduce the trailer's empty weight. A new ratchet neck design eliminates the need for changing adjustment blocks while allowing the operator to adjust the ride height of a trailer from one side of the trailer.
The trailer is also customizable with a 22-inch deck height and a deck boom well, and a six-foot-long recessed portion is plated for an excavator bucket. The six-inch-deep recess lowers the overall height of the boom, ensuring legal load height.