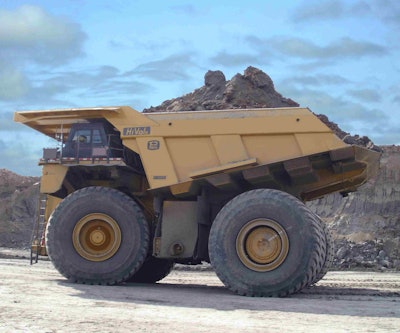 Handle highly-abrasive material with Philippi-Hagenbuch's line of HiVol Hard Rock/Ore Bodies, which have hydrophobic steel and high abrasion liners to provide durability. The customized truck bodies feature reduced steel for lighter weight, and take into account individual factors such as material density, height and width restrictions and climate conditions, among others. Philippi-Hagenbuch's Load Profiling process ensures maximum payload capacity.
The bodies taper from front to back to decrease wear and carryback potential on the sides of the body. This enables the body to release material immediately upon starting to dump, and allows the material to slide out of the body without abrading the sides.
The reduction in weight on the sides allows for reinforcement on high wear areas. The wide body and low center of gravity ensures even weight distribution. The HiVol body is engineered to not fall below the center of the wheels or the height of the berm at full dump, eliminating tail damage from dumping into a pile.
Additional features include reinforced body side top rails that reduce material buildup within the sidewalls; inward tapered outside steel plates that provide a compressive effect to protect the body walls from impact and steel bolsters under the body floor create a superstructure that won't buckle under material weight.
The bodies also feature the Philippi-Hagenbuch Body Lifting System for simplified installation and maintenance. Four removable free-floating lifting eyes are temporarily integrated into the floor of the truck body, rather than into the body sides. This enables operators to attach rigging to the eyes from beneath the body, eliminating stress on the body sides.