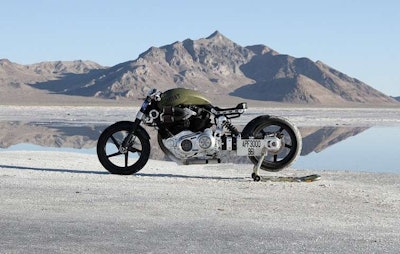 There are motorcycles and then there Confederate Motorcycles. A custom shop in Birmingham, Alabama is hand crafting a limited edition of this aptly named X132 Hellcat Combat. The bike boasts a drag-race powertrain and chassis that reins in 132 cubic inches producing 160 horsepower and 160 foot-pounds of torque. Weighing just 490 pounds and whatever load you bring to the saddle, the X132 is reputed to be the fastest V-Twin in the world, averaging 172 mph at the Bonneville Salt Flats. Only 36 have been made and prices start at $72,000.
So what's with the Hellcat name? The designer/builder has this to say on his website:
"My father fought four years in the Pacific theatre of WWII. The F6F Hellcat was the American industrial and mechanical design masterpiece that ruled the airways in that theatre, helping preserve the American Way. For this glorious feat I chose to christen our first motorcycle the Hellcat."
Gear is a new feature on EquipmentWorld.com that collects the stuff you might find useful or cool at the jobsite, at home, or both.