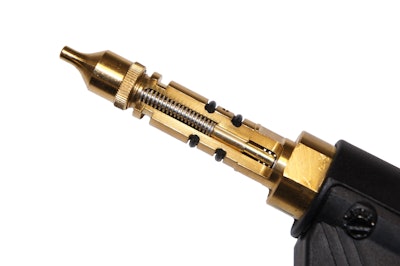 Reduce wire feeding problems when MIG welding with the new Quick Load Liner AutoLength System from Tregaskiss, suitable for guns equipped with Quick Load Liners such as the Bernard T-Gun Semi-Automatic Gun and Tregaskiss Robotic MIG Guns.
The system also decreases burnbacks as well as premature contact tip failure and wear that occur from misalignment between the liner and the contact tip.
The system works via a spring-loaded module housed inside the power pin that applies constant pressure on the liner. This keeps the liner correctly seated in the retaining head while allowing for up to one inch forgiveness.
Following AutoLength Pin installation, the Quick Load Liner installs from the front end of the MIG gun with minimal time and effort. The liners enable changeover while the MIG gun remains attached to the wire feeder, as well as allowing for liner changes from a safe zone in a robotic cell during pauses in operation.
For information on part numbers to upgrade to the Quick Load Liner AutoLength System, see the Tregaskiss System Upgrade Chart.