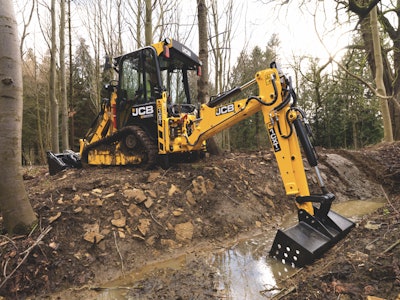 Don't confuse the JCB 1CXT with a compact track loader, says Diego Butzke, JCB's product manager of backhoe loaders and dumpers. Unlike a CTL or a skid steer, the engine is in the front of the machine. "It is a full backhoe that benefits from the driveability of tracks," he explains. "This is a construction grade machine that will do the job of an excavator and a CTL."
Along with its 19C-1 E-Tec electric compact excavator, JCB showed off the 1CXT at the recent American Rental Show.
Coming to North America later this year, the tracked JCB 1CX has been offered in Europe since 2014. "We think this will appeal particularly to landscapers, small construction operations and rental companies since it's under 9,600 pounds," Butzke says. "Depending on what state you're in, that means it can be towed with just a truck and a trailer."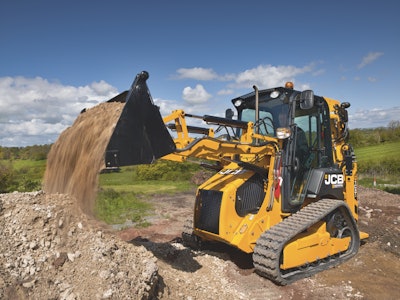 The machine has a skid-steer quick hitch on the front loader end and a side-shift backhoe at the rear. Side-shifts backhoes are popular in Europe but not common on American jobsites.
It's at least the second side-shift standard backhoe that JCB has featured on a unit marketed in the states. The company also put a standard side-shift backhoe on the 3CX compact backhoe, which it introduced in 2015 at ICUEE.
"The side shift gives you the ability to dig next to a wall or a fence, and reach further on the sides," Butzke says. "You can also park the machine in one spot and dig a square hole." And on a congested jobsite, the extra room required to extend the stabilizers on a center-mounted backhoe can sometimes be problematic.
The parallel-lift loader arms are the same style as on JCB's larger backhoes. The front end has both a 12-gpm standard-flow and a 26.4 high-flow hydraulic circuit.
Powered by a 49-horsepower Perkins engine, the 1CX comes in either an open-ROPS canopy or full cab and features the same seat-mounted controls as on JCB's larger backhoes.
The 8-foot, 4-inch maximum dig depth (10-feet, 1-inch with extendable dipper) machine has two loader bucket options: general purpose and six-in-one. Although the machine will be introduced with tracks here in the states, a wheeled version of this machine has been offered in Europe for since 1994, Butzke says.
JCB labels both the tracked and wheeled versions of the 1CXT as the "world's smallest backhoe loader." According to product literature, the 1CXT can work on a 31 percent gradient and turn 360 degrees on its own axis. JCB says the backhoe is equivalent to a 2.5-ton compact excavator.
Here's a look at the 1CXT in action: