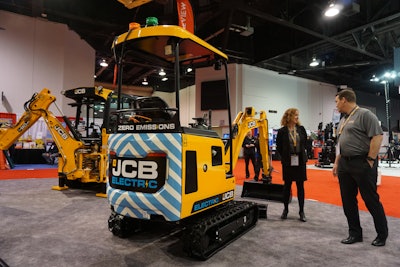 Attendees of the American Rental Association Show got a close up look at four all-electric machines coming from JCB, Takeuchi, Ditch Witch and Toro. While some are in concept stage, others are poised to enter the market this year.
These machines follow recent electric machine-related announcements by Volvo, Caterpillar and Cummins and Hyundai.
JCB 19C-1 E-Tec compact excavator
The 19C-1 E-Tec is the first of an electric range of machines for JCB. Nearing its European launch, the electric compact excavator will come to North America later this year.
"It has the DNA and same architecture as JCB's conventional 19C-1 that we introduced last year, with a few subtle differences," says Nick White, JCB product specialist, mini excavators. "There's very little we had to do to fit it in the same space as the diesel drivetrain. Operationally, it's identical. It was imperative that the electric version perform exactly as the standard machine."
Instead, of course, that the engine compartment contains lithium-ion batteries in place of a diesel engine. "These are the standard automotive batteries that you now see in electric vehicles," White says. The batteries are positioned underneath the operator's seat in a "safe and secure environment," he says, situated to thwart thefts. "The batteries are not designed to be interchangeable because they have 10-year life."
The electric machine produces 8 to 10 decibels less noise than the standard machine. "That doesn't sound like a lot, but it's almost silent when you switch it on," White says. "The noise comes from the digging operation."
Powered by four lithium-ion batteries, the machine goes from zero to full charge in 12 hours using a cable running from the machine to a standard 110-volt outlet. A full charge gives the machine three to four hours operating time, or about of full day's work for this size of excavator. When the machine is charging, all controls are inoperable.
A fast-charge option will be coming in the third quarter, which will use a stand-alone high-voltage three-phase charger, giving the machine a two-hour zero-to-full-charge time.
Each battery has a 3,000-cycle charge capacity, and JCB estimates a typical cycle use of 300 cycles per year. "Even after 10 years, you're at 80 percent battery capacity," White says.
When operators get to 10 percent charge, they get a warning, which means they have about a half-hour left of operating time, enough to get to an outlet. Also at 10 percent, the machine's hydraulic flow and track speed is reduced by 50 percent. "In effect, it's in limp mode," White says.
What about maintenance? There's not a lot to maintain, White says, and these items have more to do with the standard components of the machine, such as greasing the boom, and checking hydraulics and track tension. No checking the oil, fan belts or fluid levels.
White declined to talk about cost comparisons with the electric machine versus the diesel 19C-1.
"It's not just about eliminating diesel exhaust fumes, it's also about noise," White says. Eliminating diesel fumes also makes it a solution for confined spaces such as tunnels and inside buildings.
"There's a huge range for opportunities for this machine," White says. "It's more than just a niche."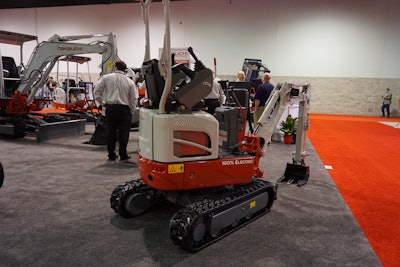 Takeuchi e210R compact excavator
The e210R is actually the second all-electric excavator by Takeuchi, Both this machine and the previous e240R are sold on greenmachineco.com. (The Green Machine Company builds and installs the battery and drive components.)
The 2,370-pound machine is an electric version of the company's TB210R model, which is the smallest excavator in the Takeuchi lineup. It has the same specs as the standard machine, including a 2,518-pound breakout force and a maximum dig depth of 5 feet 9.1 inches.
The e201R has a four-hour run time, with a four-hour charge on a standard outlet. On greenmachineco.com, the company claims 50 percent less noise (no decibel amount is cited) and a 12-year battery life on the Takeuchi's first electric excavator, the e240.
Ditch Witch c12e trencher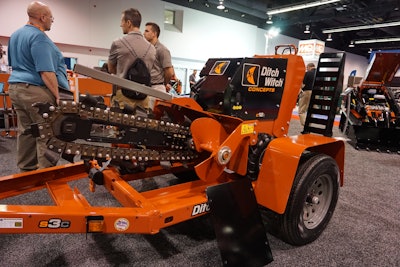 This walk-behind trencher is now in proof-of-concept stage, intended as a discussion starter with rental companies during the show. According to Chris Thompson, Ditch Witch product manager, compact equipment, the company used the display machine to ask rental companies about acceptable run and charge times.
"As it stands right now, we expect the machine to get about four hours of continuous use, which would be hard digging, and to take somewhere between six to eight hours to fully recharge on a 280 circuit," Thompson says.
"This would be great for anywhere that noise is a problem," Thompson adds. "We're also starting to see some states give incentives and preference to zero emission jobs and this would allow a contractor to do that." And since this machine would be marketed on a global basis, the company is also looking at products for more emissions-restrictive areas, such as some regions in Europe.
The concept machine is equivalent to a 12-horsepower diesel unit.
Toro e-Dingo compact utility loader
As it did with the TXL 2000 compact utility loader showcased at last year's ARA show, Toro used ARA to display its newest concept machine, the wheeled e-Dingo electric compact utility loader. "There are a number of jobs that require machines to have zero emissions and this is getting us into a new market," says Sean O'Halloran, Toro marketing manager. "There's just a general acceptance for electric products now."
The e-Dingo on display was comparable to the 23-horsepower, four-wheel-drive Toro Dingo 323, a mainstay in the Toro lineup.
There may be some Dingo attachments that won't be able to be used on the electric version, O'Halloran says. "If you wanted to put a trencher on an e-Dingo, it might not be your best option because you're going to consume that electric power pretty quickly, as opposed to using a bucket. But I don't think that will be a real negative and hopefully the technology will continue to improve each year."
Toro anticipates that the e-Dingo will be out in the field sometime in spring of 2020, the first of what may evolve into an electric lineup for the company.