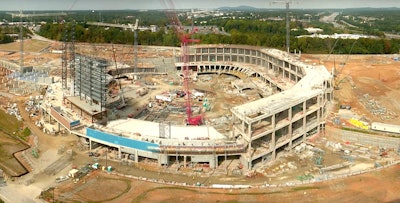 After 20 years and and many postseason runs at Turner Field, the Atlanta Braves have moved into a new home at Sun Trust Park.
Construction of the new stadium took American Builders (a partnership between Brasfield & Gorrie, Mortenson, Barton Malow and New South) 26 months to complete before Atlanta hosted the park's inaugural game with a 5-2 win over the San Diego Padres.
EarthCam set up time-lapse cameras all around the jobsite to chronicle the park's construction and the resulting footage condenses the entire process down to just 90 seconds. Apart from the effect of seeing a structure rise from the dirt, this particular construction time-lapse also gives you a look at the meticulous process of how a Major League Baseball playing surface takes shape. Check it out below.
Video courtesy of EarthCam.