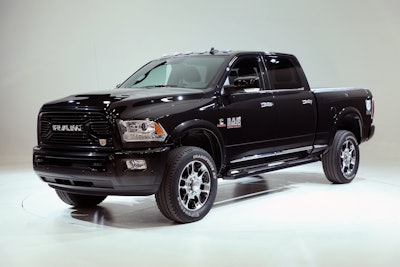 If you plan on watching the 143rd running of the Kentucky Derby this weekend, prepare yourself to see a lot of the Ram Truck brand.
As the exclusive automotive sponsor for the iconic horse race, the company says it will "immerse" fans at Churchill Downs and watching on TV "in a total Ram Truck brand experience," through several TV ad spots, all sorts of signage throughout the race grounds, branding on crew staff uniforms and even on the uniforms of a few jockeys. They even want you to tag your tweets with the #RamDerby hashtag.
And if all that #brand #marketing doesn't get you #excited, maybe a one-of-a-kind Ram 2500 will do the trick.
Though it has been the Derby's sponsor for the better part of the last decade, for the first time Ram has designed a custom special edition 2500 it has aptly named the Kentucky Derby Edition 2500. The truck features a "Brilliant Black" exterior and includes blue Kentucky Derby logos commemorating the 143rd race on the left and right rear panels. A nice touch, the truck also features a hand-pointed Derby rose badge on the front grille.
Being a customized 2500 with Ram's Limited trim, this truck features the truck maker's Limited/Longhorn front grille style in a body-color variant along with 20-inch aluminum wheels and a 6.7-liter Cummins turbo diesel.
And while Ram has created a lot of #marketing for you to enjoy, only one Derby Edition 2500 will be available and it will be awarded to the trainer of this year's winning horse.
The Kentucky Derby will air on NBC this Saturday (May 6) at 2:30 p.m. E.T.
Check out more photos of the Derby Edition 2500 below.