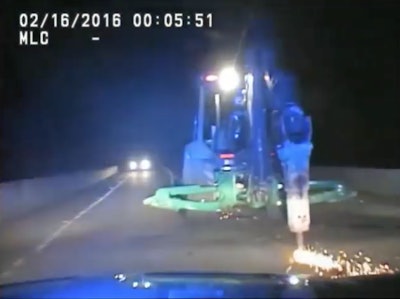 A man was arrested last week after he allegedly drove a backhoe off of a Florida Keys construction site and led police on a low-speed chase, doing thousands of dollars in damage to a bridge in the process.
According to a release from the Monroe County Sheriff's Office, 59-year-old Carl Blahnik's backhoe joyride began with him using the machine to dump boulders at the north end of the Seven Mile Bridge and was only brought to a halt by deputies using spike strips to damage the machine's tires in the early hours of February 16. But not before he led authorities into a fully-involved chase, "traveling back and forth on the bridge for an hour and a half," deputies reported.
In the dashboard camera footage from the chase below, sparks fly from behind the machine as the breaker/hammer attachment drags along the center of the roadway.
As Blahnik drove, he damaged the roadway, sides of the bridge and a deputy's patrol vehicle. At one point, deputies abandoned the bridge entirely, fearing for their safety. In fact, deputies suspect Blahnik had experience operating a backhoe due to his "pinpoint pivots on the bridge," sheriff's spokeswoman Becky Herrin told the Miami Herald.
Once arrested, "Blahnik was charged with reckless driving, fleeing and eluding police, digging up or [in] any way disturbing any street or highway (FL. Statute 316.2035.3), failing to register a motor vehicle and grand theft of a vehicle," the sheriff's office reports.
In an interview with KeysInfoNet, Florida Department of Transportation spokeswoman Ivette Ruiz-Paz said the joyride caused an estimated $30,000 in damage with "hundreds of reflective pavement markers" damaged and "minor damage to the bridge concrete deck." It took deputies about 90 minutes to clear the bridge of debris and reopen the roadway.