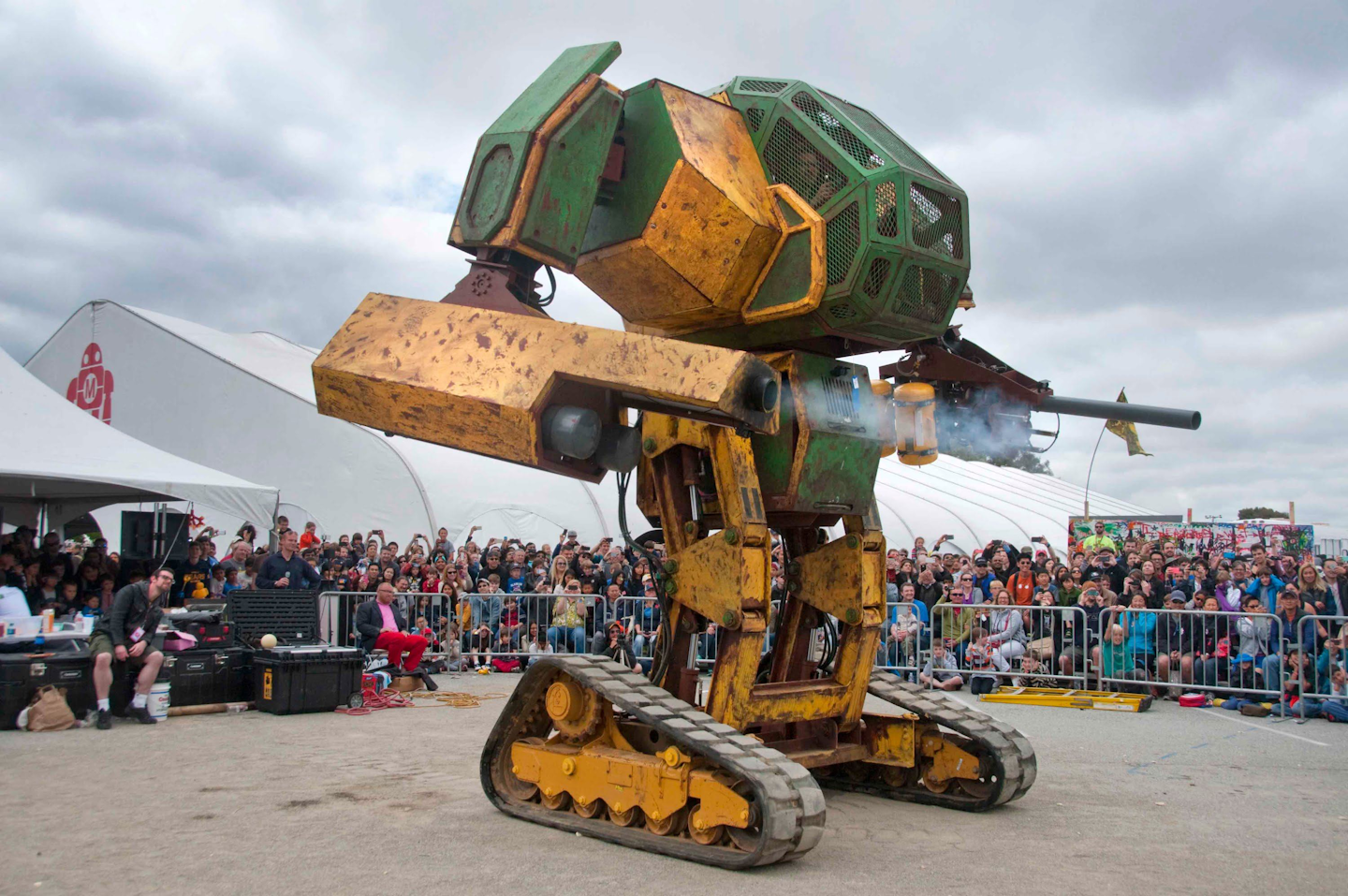 Though not in widespread use quite yet, both remote controlled and autonomous construction equipment are not exactly novel ideas any more. But it's not likely anyone has seen a pair of Caterpillar compact loader tracks be put to use in this way before.
A company called MegaBots, with the help of nearly 8,000 backers on KickStarter, has built a massive, 15-foot-tall battle robot and challenged Japan's Suidobashi Heavy Industry and their robot Kuratas to battle. They accepted and upped the ante a bit, requiring that the duel include not only projectiles but a hand-to-hand melee element as well.
Yes, you read that right. An international megarobot duel. And apparently one a lot of people really want to see.
Those 7,857 KickStarter backers pledged $554,592 in order to bring the Mk. II to life. According to a KickStarter update posted by MegaBots, the current build sits atop a pair of Cat 289c compact track loader tracks and is powered by a 24-horsepower Honda V-Twin engine. It's limited to only 2.5 miles per hour and a hydraulic flow of 12 gallons per minute.
Check it out in action near the end of this video.
However, this is only the initial build.
MegaBots plans to perform some major upgrades to the bot in order to better prepare it for hand-to-hand combat, including replacing that Honda with an American-made V8 of some sort, aiming for more than 340 hp. They want to increase hydraulic flow to 120 GPM and torque from the current 1,500 ft.-lbs. to 4,600 ft.-lbs. They also plan on adding some heavy armor plating.
What's incredible is all the help and resources that are lining up for the project. Check out this video which includes IHMC Robotics, Autodesk and even NASA.
As far as the tracks go, they've brought on the geniuses at Howe & Howe and will soon switch out from the Cat tracks to a pair of custom-made Ripsaw MS4 tracks. Howe & Howe detail the other upgrades for the bot that they have in the works in the video below.