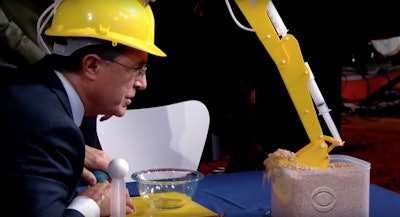 If you ever wondered whether or not Late Show host Stephen Colbert might have the chops to become an excavator operator should this new gig not work out, just check out the video below and decide for yourself.
Colbert recently had inventor/sculptor/"inventurer" Dominic Wilcox on the show to show off some of his unique creations. Among them was this cereal excavator.
The rig is mounted to a hard hat, hydraulically-powered by milk and offers smooth joystick controls. And as you can see, Colbert is a pretty quick study, preparing a bowl of cereal in only three to four times the amount of time it takes to just dump it out of the box.
Impracticality aside, the coolest thing about this cereal excavator is that once you've got your cereal scooped and dumped, there's a hydraulic release in the controls that fills your bowl with milk. Pretty clever. We'd like to echo the sentiments of one YouTube commenter who noted, "Is there a Kickstarter for this?" Check out the video below.