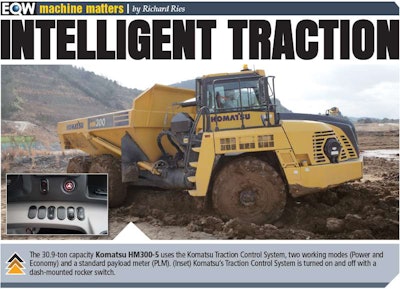 The goal: Productively move a full payload in sometimes extreme underfoot conditions by keeping all wheels engaged with the ground at all times. Here's how today's articulated dump trucks do it.
How automatic traction control works
Standard on articulated dump trucks, automatic traction control (ATC) monitors wheelspin and axle speeds several times per second and responds quickly if slip is detected. With ATC the truck is always in the correct drive combination for conditions. And ATC is flexible; it can be applied to a single wheel, one or more axles, all wheels on one side, etc.
Traction control saves money. Volvo, for example, says ATC improves productivity and fuel consumption is reduced up to 6 percent. Because ATC-equipped trucks are easier to operate, operator training times are shorter. And since these trucks can take on rough conditions, including steep hills, you don't have to spend as much to maintain haul roads.
To take a deeper dive into how an ATC works, let's look at the Komatsu Traction Control System. Monitoring the relative speeds of the front and center axles, when slip is detected, the system automatically engages an inter-axle lock. If a wheel is still slipping, the system applies the service brake to that wheel and continues to monitor wheel speed and modulate braking. In the cab, the operator uses a rocker switch to choose between automatic and manual operation of the inter-axle lockup clutch.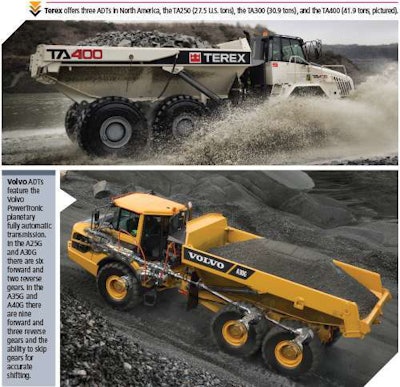 Doosan ADTs use one turning ring on each rear tandem housing and one at the articulation joint. The rings on the tandem housings allow extreme positional differences between the front and rear wheels of each tandem. The front turn ring allows the cab to rotate independently of the rear frame.
In addition to applying braking to a wheel that's slipping, Doosan ADTs use longitudinal differential locks that, when engaged, provide a 50/50 power split between the front and rear axles. The front and rear axles have limited-slip differentials.
Lock 'em up
ADTs use a variety of drive locking mechanisms to improve traction in loose or muddy conditions. Inter-axle locks keep axles turning at the same rate; differential locks do the same for wheels on the left and right sides. These locking systems are used alone or in combination or can be turned off in firmer underfoot conditions. You don't want to run diff locks full time; they increase drivetrain wear and tire scrub, which greatly reduces tire life.
In auto mode, the differential locks on John Deere ADTs automatically engage at speeds up to 12 miles per hour in forward or reverse. Manual operation allows full differential lock engagement through the entire articulation angle and can be engaged while the truck is in motion to allow the operator to anticipate poor ground conditions and maintain momentum.
The normal drive mode on Volvo ADTs is 6×4. When conditions call for 6×6 traction, a longitudinal differential lock engages to provide 100 percent lock-up between the middle and rear axles and all six wheels rotate at the same speed. Switching between 6×4 and 6×6 drive is automatic and relies on input from sensors in the transmission and drop box. Sensors also read steering angle, bogie axle input speed, and mid-axle output speed. Volvo says operating in 6×4 mode can reduce tire wear by up to 10 percent.
Advanced braking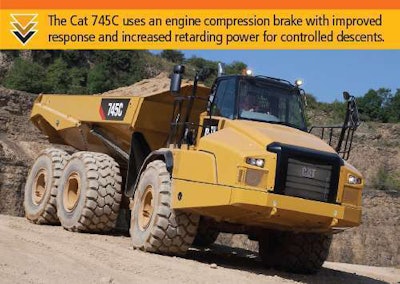 Sometimes staying still is as important as moving.
The Waiting Brake feature on Caterpillar ADTs is helpful during load and dump cycles but can be employed at any time. The operator moves the gear selector to Neutral and presses a button to deploy Waiting Brake.
To disengage the feature the operator moves the shift lever to forward or reverse and applies throttle. When Waiting Brake is applied on a grade, roll-back is prevented until the operator initiates movement. Hill assist provides the same anti-roll-back anytime the truck is stopped on a grade. As with Waiting Brake, hill assist applies all six brakes.
Doosan uses an exhaust-style engine brake. In addition to providing braking, the exhaust brake can be cycled periodically during idling to maintain adequate exhaust temperature to ensure aftertreatment function.
Inboard mounted wet disc brakes on Deere ADTs have increased services lives and higher braking power because they're applied to high-speed but lower-torque components. Brakes and axles are pressure lubed and filtered individually to prevent cross-contamination and ensure oil is placed where needed.
The parking brake on Bell ADTs automatically engages when the shift selector is moved to neutral, which can only be done when the truck is not in motion. Parking brake release is torque-dependent to prevent roll-back on slopes and to provide hill start assist. Retarder and engine braking are automatically applied when the operator's foot is lifted from the accelerator. Degree of retarder action can be set using the sealed switch module for optimal descent control.
On-board weighing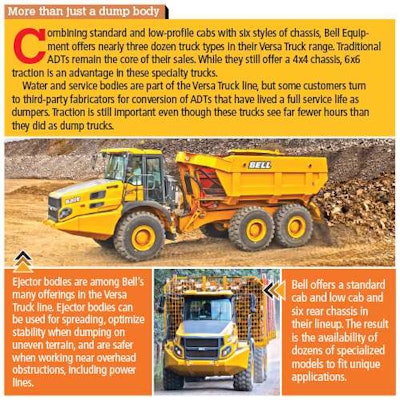 Proper loading is determined by weight, not volume, and since different materials have different densities it's hard to know how much volume equals optimal loading by weight. On-board weighing systems help deliver the just-right load every time. Load information is available to the operator via the in-cab monitor, to the loader operator by truck-mounted indicator lights, and to management through telematics.
Among the metrics available through the Production Measurement System on Caterpillar ADTs are tons per hour, tons per unit of fuel, tons per cycle as well as cycle counts and cycles per unit of time. A big advantage of on-board weighing systems such as Cat's is they enable proper loading at the stockpile so that trucks don't have to return for load adjustments after crossing the on-site scale.
The green-yellow-red lights of Komatsu's payload meter (PLM) are mounted on top of the cab and illuminate sequentially as the truck is loaded. The lights are visible to the
loader or excavator operator.
The ADT operator gets information via the in-cab monitor and the fleet manager gets full information via Komtrax telematics. Information includes accumulated payload, average payload per truck cycle, and dump counts by multiple units of time, including customizable units.
Information can be downloaded as a .csv (comma-separated values) file for importing into spreadsheets and other software.