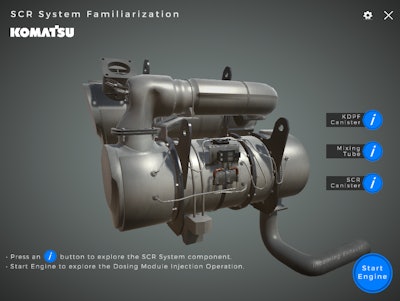 Komatsu will soon begin training operators and equipment technicians using a suite of applications developed by a company specializing in 3D virtual simulations.
Developer Heartwood says its 3D training apps allow operators and techs to learn about Komatsu machines in a hands-on way thanks to its use of immersive and interactive visuals similar to those seen in graphically-intense video games.
The applications were created specifically for Komatsu machines. You can see a preview of one of the apps in the video below.
"The application HW created effectively takes complex concepts and breaks them down into manageable pieces, improving retention and understanding with the user. We are excited to work with Heartwood 3D in bringing the innovation customers expect from Komatsu products into our training programs," Komatsu said in a statement.